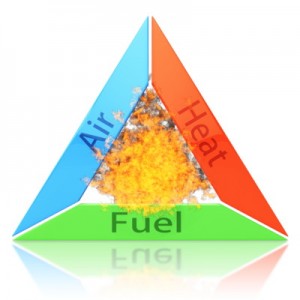 Generally most people are very alert to the potential fire hazards that could take place about the home.  Caution is taken in many different areas and one of these is the surrounding area around the heating system, however there is more that can be done in regards to fire prevention when it comes to the furnace.
When spring arrives and the heat can gradually be turned down to the point where the furnace is no longer running, we tend to forget about it for a few months. Then before long autumn arrives and its time to fire it back up. Then we realize that it hasn't had its yearly cleaning, but unfortunately this seems to be a common occurrence and many of the service people are totally booked for weeks to come.
The best option may be that once you are comfortable enough that you no longer need the furnace running, to book your furnace cleaning for the spring. The service providers are likely to be far less busy. Another good reason for doing this is also an inspection of this equipment could be carried out at the same time. If there is something that needs to be repaired now is the ideal time to have this done when you don't have to rely on heat.
Another important factor to keep in mind is the tendency throughout the warm months of storing items near the furnace. Often people do a lot of improvements to the home during the spring and summer and this includes painting. Then the paint can get stored and without thinking they could end up too close to the furnace and forgotten about when it comes to the fall and the furnace is going to go into action again.
It is always important to keep your safety in mind and it so easy to take things for granted. This time of year is also a good time for taking a look at your electrical components and making sure they are electrically sound. Get rid of those frayed cords and replace them immediately. If you have not already done so, make sure you check your fire alert systems to ensure they are fully optimized and in good working order.
You will soon be firing up the barbecue if you have not already done so, and you want to be sure that you have followed all of the precautionary measures here for your fire safety as well.
Finally don't forget about the family fire escape plan and route.