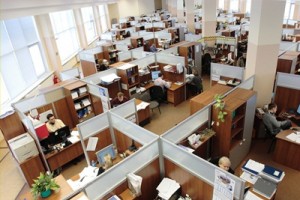 It is going to depend on the type of business that you run as to what level of security you will need to protect your employees. If you are offering services it is less likely that you would have to worry about a robbery in regards to equipment or products. However, if it is a booming service business you are at risk for the robbery of the cash you are taking in.
In today's world robbers aren't too choosey as to what they may steal. If it is your equipment they are after then most likely they would hit your place after hours, and there wouldn't be a concern for your employees. Aside from this though if you have cash or goods on hand then there is a risk, and you need to consider the type of security you can put in place to protect them.
Ideally you will want to have a monitored alarm system. You are the one that really needs to assess the level of security you need based on what your company stocks and offers and is vulnerable to a robbery. In conjunction with this you can speak to business security experts like those at Pre-lock who can advise you as to what level and why type of security you should be considering.
If you are carrying high end items like jewelry or hold large sums of cash on your premises then you may need to consider a panic button for your employees. Often robbers will target the employees who they think can give them access to the high commodities that may be stored in the business vault.
Having this type of security in place gives the employees a greater sense of security.
Unfortunately it is not only the outside robbers that you have to be concerned about. There are times where it is an inside job. In these cases it doesn't just concern high end or highly valuable products.
Loss of inventory through theft no matter how low the money value of the products are soon adds up.
Often it is only one employee who is the culprit but at the same time their actions place all of the other employees under suspicion. You as the company owner have the obligation to protect them and you can only do that by having proper measures in place to catch the one who is ripping the company off.
Aside from having actual security equipment in place that can lessen the chances of employee theft, you have to watch for some of the potential warning signs. You need to know something about your employees aside from their work habits. When it comes to the equipment things like cameras in the right places will definitely act as a deterrent. Keeping track of your stock and being able to identify as quickly as possible that theft is occurring is something you need to do.
Take the time to access where your employees need protection then take the proper steps to address this.