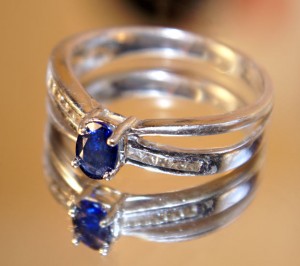 Almost any type of business requires security to keep their premises and merchandise safe. In many cases the value of the merchandise and how easy it is to fence determines what risk it is a for being stolen. One industry in the GTA that has been vulnerable in the past is jewelery stores. This raises a question as to what is there available for security for Toronto jewelers?
It all begins with the basics which are the doors and windows. It wasn't uncommon to see most jewelry stores have bars on their windows and doors. While to many this seems unsightly for a commercial business for this particular industry it was considered acceptable because of the large value of content. Both business owners as well as potential customers who liked to see the window display would accept this. Now with the modern technology window bars such as Uniguard can be used but they have a really nice pattern to them and actually add to the decor.
For those that want to go with a door protection that is going to act as a deterrent as well as hold the would be thieves at bay there are some steel folding gates that can be chosen. During operating hours these can be folded back out of the way. Security for Toronto jewelers has to be considered a priority for around the clock. It may be the type of business that is susceptible to day break ins while the store is open just as much as night time break-ins.
If a jewelry company wants to feel sure that their staff is being well protected then having the installation of a panic button or silent call button is an option. This is a security alarm that can be triggered by a staff member during a hold up that will alert the security monitoring company who will in turn dispatch assistance.
CCTV cameras are also a good choice as quite often before a break in robbers will pay a visit to the store to assess what type of security is in place. They will pay attention to the windows aside from the one that is most viewed from the street. They will try and take not of how many cameras on the premises. If the store has a few of these at least strategically placed then this may be enough in itself to cause the thief to consider whether its worth the hassle.
These are just a few of the many security products that Pre-lock has available for the jewelry business in Toronto that want to have top notch security for their business protection. Although an industry can be the same, each business in itself is unique and requires customized security. The experts at Pre-lock are more than capable and willing to offer this service.