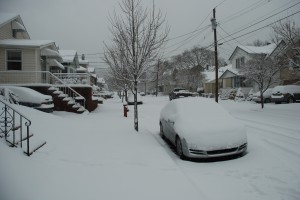 While everyone hopes the snow will hold off at least until Christmas the weather never seems to cooperate. It makes it tough for commuters who have to battle the roads during the snow, but even for those who are stuck in their homes such as our Toronto seniors it poses some real problems.
Many seniors now have the opportunity to remain in their own homes because of the many Government programs that meet the seniors needs. These sometimes don't help when they are shut in during the winter months because the weather doesn't allow them their freedom to at least go outdoors for a change of scenery.
There are some seniors who just can't stand not being able to shovel their own walk ways and don't have the patience to wait for help to come along, and will attempt this themselves. It can be too strenuous for them and they run into some health problems. For the families of these older individuals it causes real concerns. Some peace of mind can be offered by making sure the elderly person has a life alert system that is of good quality, and will provide assistance should they run into some medical difficulties.
Something else they need to be aware of is answering the door to unknown individuals who are there under the guise of providing snow removal services. Having an intercom installed will allow the senior to respond to who is at the door without having to open it. This way they are reducing the risks of scam artists, or those who are looking to gain entry to the home.
It is also the time of year when the weather is cold that many people rely on additional heating to maintain a comfortable living atmosphere. These are great when used properly but can be a real hazard if not monitored and put in a safe place. It is easy to forget that the heater is operational when it has shut off because it has maintained a certain temperature. As a result items get placed near it that could cause a fire. It really is important to check the senior's home to be sure that the fire alarms are working properly and put in the right places. It is also wise to review with the individual that they have a proper fire escape plan in place.
Having to stay indoors during the winter months also puts the senior at greater risk for in home falls and mishaps. As mentioned, having a good life alert system in place for them to use in this case provides some comfort for both them and their families.