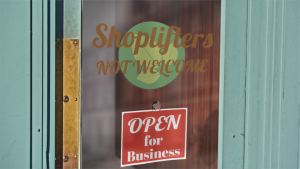 Security from Shoplifters
A question that gets asked very often by the public to security specialists is in regards to shoplifters and the law.
Does a store, or employees of that store who are NOT security officials, have the legal right to detain and/or search a person suspected of shoplifting.
The answer is yes….and no.
Let us explain.
Under the current criminal code of Canada, section # 494 the law does give people the ability to stop a person who has committed a shoplifting crime but only under certain conditions that have to be met.
The code says that:
Anyone may arrest without warrant a) a person whom he finds committing an indictable offence; or
b) A person who, on reasonable and probable grounds, he believes
i) has committed a criminal offence AND ii) is escaping from and freshly pursued by person(s) who have lawful authority to arrest that person.
Anyone who is a) the owner or a person in lawful possession of property;
or b) a person authorized by the owner or by a person in lawful possession of property, may arrest without warrant a person whom he finds committing a criminal offence on or in relation to that property.
Anyone other than a peace officer who arrests a person without warrant shall forthwith deliver that person to a peace office
Basically the law says that you must have "witnessed" the person actually commit the crime in question.
It is simply not enough for someone to tell you a crime has been likely committed; it must actually be witnessed by the person making the stop.
Another caveat to the law says that the person must also be given "every" opportunity to pay for the item in question before you can assume they are stealing it. This means that it is not enough to see someone place an item in their bag or pocket and walk around the store. They must be allowed to completely exit the store before you can assume they are stealing whatever the item maybe.
If you detain the person BEFORE they exit the store all they have to do is to say they intended on purchasing the item and from a legal perspective they cannot be prosecuted for theft as they never left the store without paying.
The best course of action for security guards or loss prevention personnel is to stop the individual after they have left the store and escort them to the manager's office or similar private area and then call the police to do the searching of the person for any items they may have illegally taken.
If the confrontation leads to violence the best thing to do is to simply let the person leave and let the police and the security cameras do what they are supposed to do.
There is never a good reason for a person, security or perpetrator to get hurt over any material possession.
Knowing the law and understanding what your legal rights are is the best way to protect both your store and your staff.
For a more in depth discussion on this or any other security matter be sure to contact the security professionals at Pre-Lock Security Services. They will answer any questions you may have with regard to security in a professional and courteous manner.