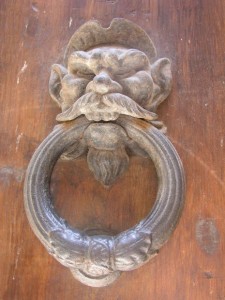 Years ago it used to be fairly common place for Toronto residents to respond to door to door salespeople. This is not near as prominent as it used to be and partly because most people don't like answering their doors to strangers. There still are the occasional knock on the doors sales reps and unfortunately not all of them are valid reps selling their product. Being Toronto security savvy means being alert to who is trying to sell you something to ensure they are just casing your home for a future break-in.
Here is an excerpt from a recent news crime release from Halton Police.
"Halton Police seek suspects in Burlington daylight break and entry
On May 14, 2013 at 3:00 p.m., the victim arrived home to find a suspicious vehicle in his driveway and a man descending a flight of stairs from his apartment area. Once at his apartment he recognized it had been broken into and property had been stolen.
The man he had seen on the stairs had taken off running down the street and the suspicious vehicle had hurriedly backed out of the driveway and was seen to pick up the man a short distance away. The victim recalled seeing the same man the day prior when he appeared at his door attempting to sell him CD's.
The victim had a television and Apple IPOD stolen from his apartment and he recalled seeing a television in the rear seat of the suspicious vehicle when he passed by it"….continue reading
Summary
Nobody likes to have a suspicious mind all the time, but it really does pay to remain alert any time a stranger is on your property. Unfortunately break and enter criminals are becoming blatant at their robbery efforts and it doesn't matter whether it is day or night. If a golden opportunity presents itself to them to take what doesn't belong to them they will go for it.
Be cautious when answering your door to strangers and don't allow them a full view of the interior of your home when you do respond to someone knocking at your door. Also go on the pretext that someone else is in the home as well if you happen to be alone. A simple calling out "I'll get it", when you get close to the door before you actually open it will create a good guise.
If you aren't happy with the security you have set up for your home or business, be sure to give the Toronto security experts here at Pre-lock a call at (416)773-5625. We would be glad to assist you in making your environment a much safer one.