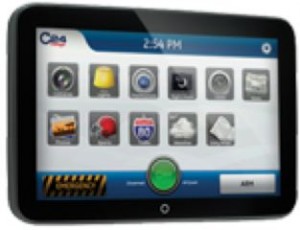 When choosing your security system for your home it can be a little overwhelming when there are so many to choose from. Perhaps you started out with the concept that you wanted a basic and simple package just for the peace of mind of knowing that you had taken extra safety measures. One choice that is going to be available to you is the C 24 DSC Interactive system.
Everyone has their own sense of security and most homeowners focus on the obvious vulnerabilities such as the windows and doors regarding intruders and fire and safety alerts regarding fire and air quality threats. When you start to look into the benefits and features of the C24 DSC Interactive you will find that you also have the opportunity for many conveniences. If you are a newbie to security systems you are going to be amazed at what they can offer you.
You are going to be familiar with the basics where the alarm will sound if there is an attempted break in. What you may not be aware of is the other vulnerable areas in your home and for this reason this particular safety system comes with up to 64 zone alarm devices that can be utilized. This means that not only are you being protected from break ins but your fire alert system is included.
Security lighting is also another valuable resource to have included in your security protection and with this C24 DSC Interactive it can control up to 32 Z-wave lighting devices. So if you want your outdoor lights to come on at a certain time, then no problem. Perhaps an hour later you want some of your indoor lighting activated, then it is easily done through the system.
Many people are now including security cameras as they are so affordable and easily installed. You too will have this option if you choose this particular security system.
With today's modern technology most homes have a whole array of electronic devices. Many of these can be controlled through the Z-wave connections that this system offers.
Many people live a very hectic lifestyle and are always on the go. The security of their home is often a major concern. With this C24 DSC Interactive system you can check the status of your home from wherever you are as long as you can access your browser.
You can visually see any events that are taking place simply by using a mobile device or computer.
While this system offers a ton of security features you will soon learn that it is a very neat, compact and easy to use. To get you started on learning what is best for your security needs you can easily talk to the security experts at Pre-lock. They will be able to give your more information about the C24 DSC Interactive as well as the many other quality security systems they offer and install.