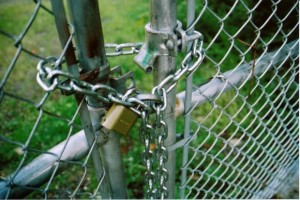 Most often businesses make the interior of their establishment the priority for their security, and forget about the perimeter. They believe that all that is required is top measures to prevent an intrusion through the building's vulnerable areas.
Ideally the best security focuses around making every step of the way for the break in artist most difficult. By doing this you can avoid attempted damage and a lot of headaches of having to respond to attempted break ins.
By having the perimeter of your business secured, many times a thief will just assess the protected area as not being worth their efforts because it is too difficult and it raises the risk of getting caught.
One of the security measures that a lot of businesses used to rely on was simply a chain link fence and maybe a few "No trespassing" signs on them. These fences look sturdy and perhaps are high enough to deter a thief from climbing over them, but are they really?
There are excellent types of security fencing available on the market but it means choosing the right type and enhancing it with additional security measures. Your fence can be your first line of defense and by making it difficult to infiltrate it is the starting point of thwarting off break ins. Eventually any security fence can be overcome but this is where your second line of defense comes into play. With an alarm monitoring system in place you will be alerted immediately of this so the thief isn't getting the time he needs to make his entry. Then when you add outdoor security lighting you have just made the crook's world a whole lot brighter which is exactly the opposite of what he wants. Now with some security cameras in place all of his attempted actions are now being caught on camera.
All of these security measures even as stand alones offer some great security measures but when you put them together as a team then you are making life very difficult for any thief and making your life in your business atmosphere a whole lot easier and secure.
Planning multi levels of security coverage takes some experience but you can rely on the professional Toronto locksmiths at Pre-lock who specialize in security to assist you with all your business security needs.