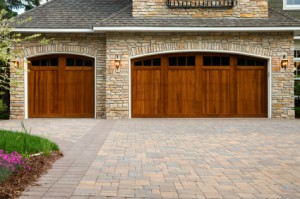 It is the time of year where a lot of home owners are doing repairs, renovations and up dates to their home. Often these are the outdoor projects so everyone can take advantage of the great weather. If this sounds like you then no doubt you want to get these projects over with early, so you can spend the rest of the warm days of the season just enjoying them.
One of the common home projects is the driveway makeover. This is an area of the home that is often left to the last on the list for a update. It is also a very important area as this where the vehicles are parked, and it often serves as a play area for the kids. When planning for your driveway makeover keep the security of your home in mind, and this area is part of your home.
Your driveway has to be totally functional but also appealing and work well with your landscaping. Once you have decided on the ground work then there is the landscaping aspect of it. Some people are starting to think about a gateway for their driveway, especially when they don't have a garage to store their vehicles in. They also look at this as being added security for the rest of the exterior of them home.
When making this decision it will really depend on whether the rest of your property has a perimeter fence around it. If not and you are wanting a gateway for the driveway then you will most likely want to include fencing for the entire property and not just the driveway. This can be an expensive undertaking. The other thing you will need to consider with a gateway is whether you want to go with an automatic gate opener otherwise you have the inconvenience of opening and closing the gate each time you need to use it.
A lot of people like to put hedging along the sides of their driveway to segregate it from the rest of the property. This is great but make sure the hedge does provide a camouflage for criminals trying to make an entry to the home.
To beef up the security of your driveway during the reno phase consider having some good lighting installed for it. You can go with some beautiful decorative lighting that goes up both sides of the driveway. You can include motion lighting to heighten the security.
Finally to add the final touches to your driveway security be sure to make sure of a driveway alert system. This is a sure way of being alerted when someone drives into the driveway. It is an inexpensive but very valuable additional to your overall security protection. Be sure to give Pre-lock a call to find out more about what you can do to beef up the security of your home and business driveways.