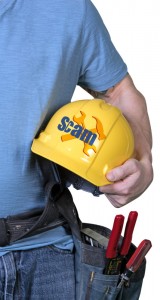 Spring is a wonderful season, once the remnants of winter dries up. Flowers and trees begin to bud, and there is a wonderful atmosphere in the air. It is also a prime time of year for the door to door scammers to go about their business.
So many people get into the spring clean up and repair mode that it sets the scene for unscrupulous individuals to take advantage of honest people. Unfortunately this has become so common place that it makes it really difficult for honest companies to go about door to door marketing.
One of the common scams is the roofing offers. Some of these bogus companies will arrive at the door with a well practiced sales pitch. Of course they target those homes that are in need of roof repairs. The sales pitch may end up with you paying a deposit now, just so you can lock into that spectacular offer that the company is promoting. The only problem is there is no real company. By the time you discover that you have "been had", these guys have moved onto another region. It takes a while before the officials can catch up with them if they ever do. Chances are you getting back your money is next to nil.
Then there are the haul away garbage collectors. Do keep in mind that not all of these companies offering these types of services are bogus. Many people that are using the spring to clean out their garage and basements are in real need of this type of service. Just don't jump at the opportunity you are being presented with at your front door without really researching the company first.
Also, be on the lookout for the scammers that are setting you up for a theft. These ones usually work in teams. Ideally the best scenario for them is when the family is out working on the front lawn. One of these individuals will keep you busy, while the second one is casing the back of the house to see if the house is empty and they can gain quick access.
It is unfortunate that as honest people we have to remain so cautious and diligent. However, you most likely have implements some good security features to protect your home and family, and you diligence is just enhancing this.