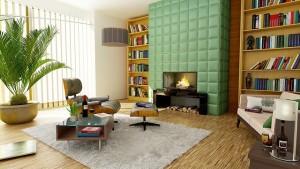 Now that the weather is beginning to turn cooler and we are headed into the winter months, it is time to start thinking about the safety precautions for your home heating needs. There are few but very important steps that you can set up as routine to help enhance your heating safety.
It is wise to have your home furnace inspected properly by a professional. At the very least they will clean this unit and make sure the filters are changed. If any repairs are needed then now is the time to find this out before the weather turns really bitter.
Furnaces are not the only heating source that many people rely on to heat their homes. Some individuals make use of small electric heaters or space heaters. While these are a great alternative for heating up a chilly area of the home they can also be a fire hazard.
The first thing you want to be sure is that the unit you are using for this is safety checked. Make sure that it is operating properly and has a safety shut off feature should it get knocked over.
You want to be sure that there is a clearance of at least 3 feet around the entire unit. This means making sure that there is nothing close to the heater that could catch fire.
If you are having any type of heating unit installed in your home then be sure this is done by a professional. Not only do the manufacturers directions have to be followed, but the local codes have to be adhered to.
If you have a fire place, or wood stove, or any other type of heating unit that you are using make sure that the children stay at least three feet away from it at all times.
For your fireplace use be sure to have the chimney inspected and cleaned as necessary. This at the very least should be once a year. It may be needed more often depending on how often you use it.
Make sure that you use a proper fire screen to contain any flying sparks. Make sure the fire is out when you are leaving the home or going to bed for the night.
There are many different types of heating units on the market. They all used a specified type of fuel. Make sure that you only use the fuel that is intended for your particular heat source.
Finally, make sure that all of your fire alert systems are fully working. You should also have a family fire escape plan in place that the entire family is familiar with.