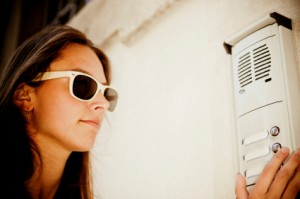 It is still common to think that when it comes to Toronto home security systems that they have to be elaborate in their setup and expensive to have installed. A lot of people still think that because they class themselves as being in the middle income bracket that they cannot afford or perhaps even need a full security setup for their home.
All of these types of thoughts are outdated, and even the simplest security item can be of great value for protection like intercom systems. To put these thoughts to rest though, it should be known that there are many different types of full security systems that are user friendly and very affordable. Also, thieves no longer just target the home of the very rich, as in our world of electronics now it makes every home a potential target, as these are the types of items that bring the thieves a good financial return on their thievery.
Getting back to the protection of the intercom system ,stop for a moment to give some thought as to how this small simple security device can give you and your family some added protection. Unfortunately home invasions are not something that just takes place when the occupants are away from the home. Most people have gotten into the habit of keeping their doors locked even when they are at home and during the day as well. What many people don't do however, is take the extra security precautions when answering the door. It is almost natural to just swing the door open as soon as you hear a knock at it. Those criminals with bad intentions realize this and it makes it easy for them to enter your home as you have made it this way for them.
By using an intercom that allows you to interact with who is at your door without having to open it is a great method of security. It gives you peace of mind in knowing that if the kids are home alone they never have to worry as to who is at the door, and it eliminates the risk of them opening it. Provided you have instructed them on the use of your new intercom.
These small but mighty security devices come in different variations. In fact you can utilize them with your present security system, and know who is at your door even when you are not on the premises.
Give Paul Seidman, or one of his several expert security Toronto locksmiths a call here at Pre-lock to find out more about the intercom systems that can afford you extra security.