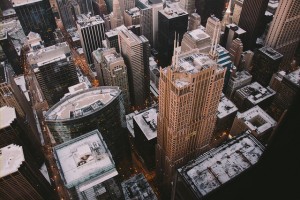 Many businesses rely on property management to help them maintain their business premises. This is quite often true when it comes to business complexes more so than for stand alone business premises. In this case it sometimes comes down to the question as to who is really responsible for the security of the premises.
The responsibility can end up being divided between the actual business itself and the property managers. The interior of the business premises is usually the responsibility of the business owner, while the exterior and common areas fall under the property manager.
How much security you are going to need for your business in this situation is going to partially depend on what steps the property management has taken to secure the other sections.
Your first line of defense when it comes to security starts with the outer area. Being as you are sharing office space within a building you need to make yourself aware as to what security steps have been implemented.
You may find that your particular building is being fully protected with the reliance being on equipment. In some cases there may be a combination of both equipment and security guards. These guards may be on the premises continually, or only during office hours, or maybe just by patrol. You need to determine that whatever method is being used does it provide enough protection for your particular business.
Some businesses are more at risk to break ins than others. For example, those that offer high end products may be more vulnerable. Or those that offer pharmaceutical products may be at risk.
It can be difficult for the property management to determine what level of security is needed for the collection of tenants that they offer their services to. It is also going to depend on the crime rate of the area where the premises are situated, plus the condition of the building itself. Newer buildings have a much better structure about them that makes it easier to implement security measures.
If you are just looking into renting space then you want to take some extra time to determine how much security is currently in place. This is going to help you decide on what your potential costs are going to be incurred when you have to plan and pay for the security your premises are going to need.
If the building has tight security and you don't have products that are more vulnerable to theft then you may only require a good door and window locking system. On the other hand it may come down to need a monitoring system and more elaborate security equipment.
Before making any decisions pertaining to your personal business security you can always call in the experts at Pre-lock to come and do an assessment of your business security needs. They will take into account the security that is being provided by the property managements and reach a conclusion based on this as to what your requirements are going to be.