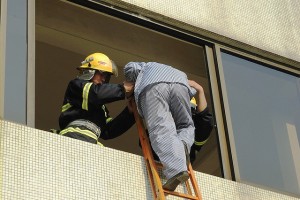 Our seniors have a lot to cope with and as family members we have the responsibility for keeping them safe in their daily lives. This includes their fire safety and it is something that the elderly sometimes forget to place any emphasis on.
The general consensus is that seniors are more likely to suffer harm in a fire compared to younger individuals. This is partly due to failing health and partly due to their lack of quick response when a fire breaks out.
As a family member you can create a fire safety check list for the seniors in your family. It should begin with fire alarm systems being present on every floor of their dwelling. Ideally there should also be smoke and fire alarms within the rooms that they sleep in. Older individuals often have hearing problems and may not respond to an activated alarm that is outside of their sleeping area. Take it upon yourself as the family member responsible for your family seniors to test their alarms on a monthly basis. If they are not able to hear it then it may be necessary to find a different model that emits a different sound. When doing this test of the alarms observe how the senior responds to it.  This will give you a good indication that they are able to hear it properly. Make sure old alarm systems are replaced with new ones.
Always make sure that the seniors know to keep their glasses or any other support devices near their beds in the evening. Items such as wheel chairs and canes may be critical to their escaping quickly.
Try to design a fire escape plan that is going to be easy for them to remember. When you go to their place to check their alarms go through a fire exercise with them to ensure they know the escape room. Ideally every room should have two methods of escape.
Seniors often have a tendency to plug in too many devices. Make sure they are not doing this and whatever extension cords they may be using are in good shape and not being overloaded.
One of the most serious concerns is that they will leave the stove on when cooking. If you feel that the senior in your life is at risk of doing this try to arrange for meals to be brought to them, or to prepare more microwave meals when possible. If they are still doing their own laundry at home be sure to inspect that the dryer lint screen is being properly screened.
These are all important factors to assist in keeping your beloved seniors safe from fire. If you have concerns for the safety of your seniors then give the professionals at Pre-lock a call to see what they recommend.