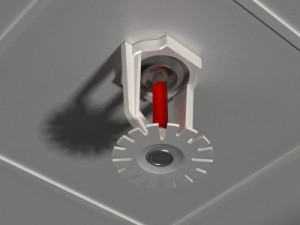 When operating a business you need all types of security protection. This includes both your security system for theft and break ins as well as fire safety. You will need to know what the building code regulations are for your particular building to know what the law requires in this area.
It may very well be likely that you are required to have a sprinkler system in the event of a fire and that your Insurance is insisting that the system be ULC certified. This really is for your own protection. It means that the system that is being installed in your premises meets all of the building code standards in this area. You never know for sure what kind of materials could be used in the construction of your premises. A unknown or less than credible builder could install inferior sprinkler systems that you are unaware of that won't do the job they are supposed to. By having this ULC Certification you know that the protection you are relying on meets the standards.
What this means is that you need to seek out a professional who is qualified and listed as a ULC provider. This provider will be registered with ULC.
Something else that is really important in this area of your fire safety is to have your sprinkler system monitored. Knowing when your system has been activated can save you a lot of money. If it has been triggered falsely it gives you a chance to respond immediately. The water damage that can occur from this type of mishap can be extensive and you need to be able to rely on a monitoring company that is experienced and credible and will notify you immediately of the system activates.
Even if you have your ULC certified sprinkler system in place, and you are using perhaps a DVAC monitoring you may be finding that its becoming quite expensive. If this is the case then you may want to see what alternatives that are here at Pre-lock. You will have the opportunity to use a system that includes alerting you if a frozen pipe were to burst. If you have every had the unfortunate experience of that happening before you know the extent of the damage that it can cause. Plus you will receive updates for less critical happenings to your system.
There is no getting away from the fact that when you own a business you have to spend money on its safety and security. No doubt you want the best for your needs. By dealing with Pre-lock you won't be over sold on systems that you don't require, but you won't be left without something that you do need. Give us a call at 416-773-5625.