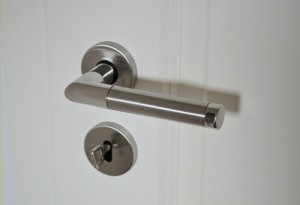 Well continuing on with the security of your new Toronto home being built it is now time to look at the locks. In the last post we focused on the doors. Your locks are important and you want to be sure that you change them even if you don't go for higher security locks when you are ready to move in.
What do you really have to consider with your locks? The first thing you need to keep in mind is that your home is being built by many different sub-contractors. Once the home reached a certain level the doors were probably kept locked at night to prevent vandalism. However, this meant the various contractors may have needed access and to save time they could have been given a master key. This could mean that there are several strangers out there that have a key to your new home if you haven't changed or rekeyed the locks.
In any event the locks that have been installed have probably been pretty basic. You have seen our posts on beefing up the security on your windows and door construction. If you intend on going through with those suggestions then don't stop now. Continue on with beefing up the lock security for your new home. Even if you aren't going to follow the other suggestions, at least do so with the locks.
The average thieve is going to try the locks on your door first to see if its going to give them easy entry. They may try to pick it or even drill it.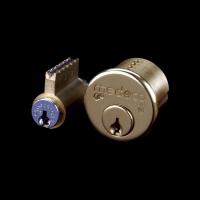 One of the most respected names in the security industry for locks is Medeco. Even crooks when they discover they are up against a Medeco lock with either give up or try some other form of entry. Often they realize that if you have been clever enough to install Medeco locks then chances are you have also beefed up the rest of your security, so breaking into your home may not be an easy task or worth the risk, so they move on.
Medeco has not only insisted on the very best of quality in the components that make up their lock, they have gone even further with heightening security with their Master Key Security Solution.  This makes it almost impossible for anyone to make copies of your keys with out permission in writing. This is a great safety feature if your keys have been given out to someone and you are concerned they have made a copy.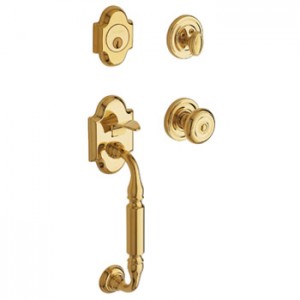 Of course when designing your security for your new home you don't want it to look like a fortress and you want to keep it attractive looking. With the right choice of architectural hardware this is an easy task. You can have locks that look absolutely beautiful but at the same time are going to escalate your protection.
Lock Bumping:
A few years back a real concern that arose with home security and locks was what was called lock bumping. If you watch the video below it will explain what it was comprised of.
Now although you may not hear much about this it is always a possibility. Pre-lock can offer you a quick and simple solution for this. Remember, "an ounce of prevention is worth a pound of cure."
You can easily get the bump halt kit installed that is going to protect you against this.
Don't forget that real door security starts with the construction of the doors, so be sure to read our post about this.