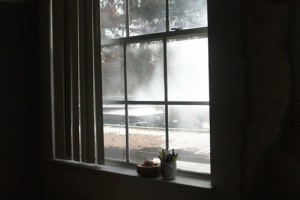 Hopefully you are dealing with a new home builder that is going to give you the options to customize your new home. If so, then you can use this opportunity to scale up your new home security in regards to your windows.
Glass choices:
You may want to begin with your windows. As a rule the average home builder will opt for windows that are made from basic glass but give a good appearance. While appearance is important your safety far supersedes this. Fortunately you can have good secure windows that look great too. You want to consider what the glass of the windows is comprised of. Tempered glass is a good choice. Laminated glass is another good choice. This type of glass is usually comprised on an inner layer of vinyl position in between two standard layers of glass. Some individuals are considering newer windows made of plexiglass which is ten times stronger than standard glass. These are just a few of the options that are available to you. All to often new homeowners are more concerned about the window's ability to keep out the cold rather than how difficult the glass is to break.
If you are not able to change the type of glass that your builder is going to use then you have more options that you can utilize for your windows once you move in. Pre-lock has some great additional window security choices when it comes to glass shattering protection.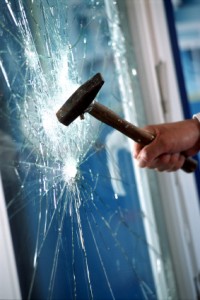 Window security film:
This is a quick and affordable alternative. It takes a little time to apply it but it is well worth it. When done correctly it is hardly noticeable and most likely will not be detected by any thief that comes upon it. Window security film provides a clear level of protection for your windows.  For those that are energy conscious there is good news with this type of film. You can actually buy the type that will afford you greater energy savings. This choice is definitely a win-win option.
Window Bars:
At one time window bars were really distasteful. They almost made a home look like a prison but no more. There is a wide selection of window bars now available that actually can enhance the decor of your windows. They come in very attractive designs. They are easy for you to install, but most difficult for a "would be" thief to get past.
 Combining your options:
You may want to use a combination of these options to enhance your window security. You may want to choose the different glass options for your lower level windows, the security film for the upper levels, and security bars for your basement level. With the number of choices that you have available to you there is no need to feel fearful about the level of protection that can be installed for your windows.
Window locks:
The standard type windows of course are going to come with standard type locks. If these are not of good quality they are soon going to wear out or break. You can easily install additional window locks at affordable prices.
Installed security system:
You are going to have to decide whether you want to go with a wired or wireless system. If you decide to go with the wired system, you may want to have this installed during the construction stages of your home. In any event you want your system to provide protection for all potential entry points to your home which includes your windows. If you are going to use a security system then don't cut costs by not having it protect your upper windows as well. Thieves can be pretty brazen and find innovative ways to reach these window. Another option is to have motion sensors installed near the upper windows.
The exterior of your home:
Don't make it easy for a crook to enter your home by providing them with cover. Your landscaping is important for creating the overall appearance to your home. Plan it wisely so that large trees and shrubs are not going to cover the window area where a thief can use it as protective covering while they attempt an entry into your home.
Don't leave items laying around that can be used as burglar's tool for breaking your windows like garden tools for example. Or ladders that they can use to gain entry in your upper windows.
The small but very important extra steps that you take to protect your windows are really going to beef up your security.