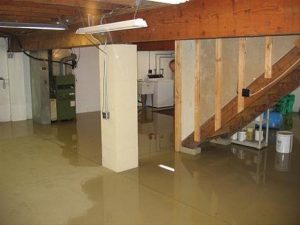 There are a lot of different ways that our homes need protecting and one of these is to ensure that we don't have to deal with basement flooding, plus ensuring that the home can withstand whatever winter has to throw at it.
When people think about protecting their most prized possession or at least their most expensive possession, their home they often think of security devices such as cameras and security systems and even the most important device to keep your home safe… a good, solid front door lock!
All of these items are extremely important for keeping your family and possessions safe over the course of the year but when winter begins the list of things to do gets a little bit longer and more complicated.
There are a variety of things you should do to get the house ready for whatever winter tosses at us this year, and with climate change influencing things you never really know what you are going to get anymore.
It used to be that we expected to get a blast of cold and potentially even snow by around mid-December and that would typically last until mid-March or so with very little in the way of thaw over that period. Unfortunately, with climate changing the way it has over the past decade or so we can no longer expect that same scenario and have even experienced at least 6 or 8 freeze/thaw cycles alone this year already with more to potentially come.
Why is this a problem? The main issue comes when the snow flies and we get an accumulation and then just as rapidly it thaws creating a huge amount of water that has to go somewhere! And that somewhere usually becomes the basement if your house is not prepared properly.
Here are a few tips to get the house ready for winter.
Firstly, you should make 100% certain that any pipes that may be exposed are sufficiently insulated so that they cannot freeze and burst if the weather turns extreme. This includes the outdoor taps and the sprinkler system if you have one.
Another must do is to fully inspect your roof ideally before any snow comes to make sure that there are no loose shingles or areas in need of repair. After the snow flies and you realize that you have a leak it is much harder to find and repair.
When you are up there inspecting the roof make sure to check the eaves so that they are not crammed full of leaves and other debris as this can lead to improper draining when snow melts and can cause ice dams that will make the water back up into your house. Never a good thing!
Now, about that basement. Being absolutely sure of having a working sump pump is a must in case of unexpected thaws and the potential of having water entering the basement if there are any leaks in the foundation or elsewhere. The incredible amount of water the freeze/thaw cycle creates is a major hazard and one you should be prepared for fully.
One of the best investments any home owner can make is a sump pump sensor which is designed to let you know if your sump is having any issues before there is a massive problem. There are many on the market and they are very cost effective.
Here at Pre-Lock Security Service we can sell and install sump pump sensors that will give you safety and even more important peace of mind!