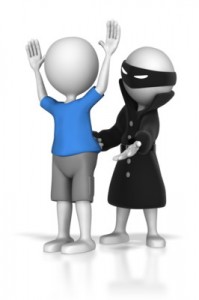 As home owners we always worry about the security and protection that our home is affording us. When we go out there is a certain level of concern regarding how safe we are, but often when we are in a public setting we make take it too lightly and assume that we are safe because there are other people around.
This may be what the thoughts were of those who attended a service station recently and found themselves in the midst of a armed robbery. Information pertaining to this was released by the Toronto Police in a recent news bulletin….
"Retail Robbery with assault rifle,
Two men wanted,
Security camera video released
The Toronto Police Service is requesting the public's assistance identifying two men wanted in connection with an armed robbery.
It is reported that:
– on Thursday, December 21, 2014, at 10:35 p.m., two men walked into an Esso station near Kingston Road/Scarborough Golf Club Road
– armed with an assault rifle, one of the men stayed by the front door, pointed the gun at customers and employees, demanding money, and robbed one of the customers
– the other man went behind the counter and removed cash and cigarettes
Both men are described as black, 20-25, 5'5″-5'6″, with thin builds.
The man with the gun was wearing black pants and a black hoodie. The other man was wearing a dark coat with two white stripes around the waist and cuffs, and a bandana on his face. "...continue reading
There is a news video released in this bulletin and it shows just how scary this can be. It also brings into reality that we may not be as safe as we think when in a public setting. For this reason it is always important to remain alert to your surroundings. We get so caught up in our busy lifestyles that we forget to be observant, and without realizing it any one of us as innocent bystander's can easily end up in a situation such as this.
Once again though it shows just how valuable security cameras can be. At least what was caught on tape gives the Toronto Police a starting point.
For bystanders that are caught in a serious situation such as this, it is important not to try and be a hero. Remain calm, and do as you are told is about the only recourse you have. Try to stay focused so you can supply the police with as much information as possible concerning the event, once they respond and take control of the situation.