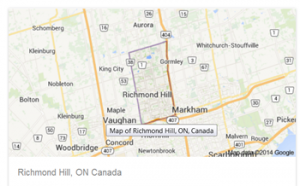 Richmond Hill Ontario is a beautiful place to live and work, and makes up part of the Greater Toronto area. It is one of those living situations where you can enjoy the best of both worlds, like the hub and activity that a busy suburban area brings yet a touch of country as well. Like any other place that provides a great living atmosphere there is also a demand for good home and business security systems.
There is no doubt that this is a fast growing location with a population of over 185,000 in the 2011 consensus. Just as the residential sector is growing so is the business area of Richmond Hill. This type of growth is great for the area but also creates another potential target for would be criminals. These types of individuals count on the probability that many of the working families will leave their homes vacant for many hours during the day, as a large number of residents commute from Richmond Hill to the downtown core of Toronto for work.
Pre-lock has been in the business of providing security equipment and protection for many years. These professionals keep a close eye on the growing communities surrounding the GTA in respect to their security needs for homes and business. This is one of the reasons why this Company makes all of their services readily available to the residents of Richmond Hill. There is no need for them to feel that they are unprotected simply because they live outside of the hub of Toronto.
This is a security Company that has become well recognized in its industry for staying in tune with security technology, and making sure their customers security needs are never outdated.
With the surrounding area growing at such a fast past it means the security experts need to be able to get to their customers quickly and easily. Paul Seidman the founder and owner of Pre-lock has assured that every customer receives the attention they need, by providing his staff with a full fleet of reliable vehicles to take these security experts to the customers who have needs.
Residents of Richmond Hill and all of the other surrounding areas are confident in knowing that they can enjoy their lifestyle in this community, when they have a security provider such as Pre-lock that they can count on for the protection of the family, homes and businesses.