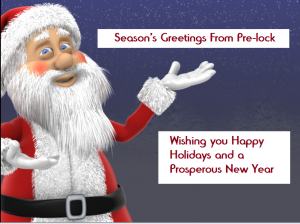 Here we are just about to finish up another year and enter into another one. We would like to take a moment and extend warm season's greetings and the very best wishes for the upcoming New Year to all of our customers. We value your business and are pleased that we were able to be part of enhancing the safety for your home, family and business.
It has been a busy year for us here at Pre-lock and we anticipate a very busy 2014. No doubt there will be many new and exciting security products and services that will come on the market. As always we here at Pre-Lock will bring those of value to you as soon as they become available.
It has been our Policy to keep you up to date with all the pertinent security information to keep you safe and we will continue to do this. We take great pride in being a Canadian owned and operated Company that is available 24/7, 365 days of the year to address your security needs.
If as of yet we have not had the pleasure of meeting your security needs then be sure to check us out in the New Year so we can make the environment for your home and business safe and secure.
Remember to keep safety first as you go about enjoying this festive season. Again, all of us here at Pre-lock wish you a very safe and enjoyable holiday season, and look forward to serving your security needs in 2014!
Happy Holidays!
Paul Seidman & all the Pre-Lock Staff