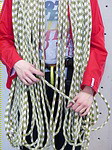 Unfortunately most often we form a perception of what the break in thief looks and acts like. Then we use this formed opinion of the thieves as our guideline to remain alert to similar characters hanging around our neighborhood. Just as a modern day security has become far more sophisticated, so have the robbers and their tools of the trade.
It used to be that home break in artists would only carry with them a minimum of tools to help them gain entry into the homes they were targeting. Perhaps a door pry or a small hammer to break glass. In a lot of cases they would just rely on some object they could find laying around the exterior  home. Their concept was just to find the most vulnerable spot to gain entry and often it was just a smash and grab adventure.
Many times we are alert for the shady looking character that may be hanging around our neighborhood and don't pay much attention to anyone else that we assume could just be a worker performing some type of home service in the area.
A recent news article makes it quite clear that we now need to be even more diligent in being astute as to what is going on around us.
"Spiderman' thief used ropes, spy gear in break-ins
…
But Toronto Police allege the 43-year-old Bradford man has spent many nights over the last several years operating as possibly the most amazing break-and-enter artist the GTA has ever seen.
"(It's alleged) Mr. Gagnon had the physical ability, he prepared himself and obviously he had the equipment to commit these offences," Det.-Sgt. Savas Kyriacou said Thursday, as he revealed details of an investigation dubbed Project Spiderman.
"He's probably the mostly sophisticated, prolific (burglar) we've ever seen," the 13 Division officer alleged.
He and other police officers across the city and up in York Region have spent months hunting a burglar they believed could be responsible for more than 100 break-ins dating back to October 2010, mostly committed in upscale neighbourhoods such as Forest Hill.
The burglaries had many similarities and were anything but ordinary, Kyriacou explained.
"(The thief) often gained entry into the homes through upper-floor windows, skylights or by cutting a hole in the roof, lowering himself into the attic and down into the master bedroom," he said. "That enabled him to bypass the alarm systems."… continue reading
This is really a good example of how we can't take our security too lightly and just rely on a few basic security measures. Of course, no home can be 100% burglary proof, and fortunately there aren't a ton of thieves as brazen as the one talked about in the article. Nevertheless it is a good reminder to talk to your security provider to ensure that your home is up to date with your security needs. If you don't have an expert as yet to rely on, then be sure to call the professionals at Pre-lock, they will be glad to assist you.