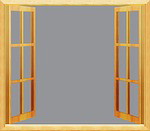 There is no shortage of places to spend money around the home. There are plenty of projects that include home upgrades and home repairs. Some you can tend to put off for a little while longer, but there are others that should be completed right away because they can also have an effect on your home security. Your windows may be one of these.
Perhaps you have been taking a look at your windows through the winter months and you are well aware they are aged, and you are losing a lot of heat through them. What you may not have considered however, is that they are becoming a prime target for a potential thief as their entry point. The locks on old windows often become useless long before their protective features concerning the elements.
Some people even tend to forget about locking their windows and just assume that because they are closed they are not going to be inviting for a thief. It is not uncommon for a thief to quickly go around and check to see if there are unlocked ones. More often than not they find just that. This saves them a lot of hassle of trying to find an alternative way to gain entry.
If you are intent on not having your windows replaced now but yet you are concerned about the security they are affording you then at least consider having window bars installed. These are the type of affordable investment that really can save you a lot of money with their preventative measures. They also can enhance the look of your home because they really are now made so they are very attractive looking.
If you do decide to go ahead with your home window replacement then also keep in mind that you still could use some additional security measures like a home alarm system. While good locking windows are a great deterrent, there are some thieves that won't hesitate to simply break a pane of glass so they can reach in and unlock the window. To take care of this possibility be sure to check out the Armorcoat safety film available at Pre-lock. This really is a very impressive security resource that a lot of people are not even aware of.
While it is important to be diligent in making sure you are not sending a open invitation to thieves through the condition of your home windows, there are many other enhanced security preventative measures that are affordable and easy to utilize. It is not expensive or difficult to make your home a safe haven.