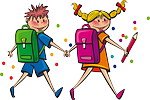 School will soon be out and most likely your home routine is going to drastically change for a few months. During the rest of the year when it comes to your security routine most likely you have a well executed plan, but now some adjustments have to be made.
During the school year the average family leaves homes together in the morning as the kids head out to school and you as the parents head off to work. Someone in the home is in charge of checking the doors and windows and arming the alarm. Now this has changed for a short period of time it is easy to forget about some of your important security measures.
If the children are young perhaps you have arranged for a babysitter to care for them during the day. You want to start by teaching this individual the proper security measures that you have in place for your home. Of course it all begins with someone that is trustworthy and if you feel comfortable leaving your kids with them, then you should feel just as comfortable about giving them your security code so they can come and go during the day yet leave the home secured. Once the back to school season has arrived you should change your security code. It is is a good idea to do this on occasion anyway.
Some people are not used to security systems, so you will want to give the children's caregiver the basics of setting and disarming the alarm. Also stress the importance of setting the alarm even if they are only going to be away from the home for a short time. This lesson will also include checking the doors and windows prior to alarm activation.
Make sure this individual knows that even if they are only going to be in the back or front yard with the kids for awhile that the appropriate doors should be locked. For example, if you have a swimming pool in the backyard chances are everyone will be out there for a good period of time, which means the front entrances and windows should be secured. Crooks have been known to observe the backyard activity and use this as a moment of opportunity to gain entry to the home through the front door and go about their thievery then be gone before anybody realizes there has been a robbery.
This is just one of many summer tips that can be utilized to keep your family and home safe during the summer break.