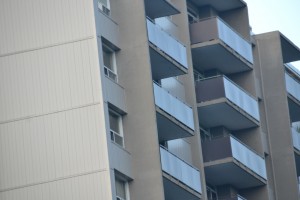 It doesn't matter whether you live in a Toronto house or apartment you need to know and feel that you are safe from intruders. Many apartment dwellers don't always feel that they are secure because of restrictions that are put on renters when it comes to securing their dwelling.
The majority of apartment owners insist on being able to access the apartment units. This makes it difficult for the renter to be able to change the locks. However, if you as a renter talk to your landlord and are willing to provide him with a key to your unit then most likely he will have no issues with a lock change. It is worth the extra investment into a good lock that cannot be easily tampered with.
Often apartments become the target of break in thieves because the locks are so easy to get past. A good example of this is depicted in the recent arrest made by Toronto Police concerning a rash of apartment break ins.
Most people like to mind their own business so when they hear a noise out in the halls of their apartment dwelling they don't pay much attention to it. Thieves are aware of this so they don't mind making a bit of noise like prying a door open to gain entry.
Aside from changing the locks there are a few other options that you can consider for your Toronto apartment safety. If you are really concerned you can talk to the security experts at Pre-lock about wireless alarm systems. These are becoming more popular amongst security conscious individuals because of their easy installation.
If you are looking at keeping your expenses down then you may want to consider a simple deterrent like Rex the electronic dog. This is a great security device and one that may make a would be break in artist think twice about entering your apartment.
You also need to be pro-active in your security measures. Be alert to what is going on around you. If you see someone loitering in the lobby or around the building that is not familiar to you, then report it to your landlord.
Never leave your doors unlocked even if you are just going to visit a neighbor in the building or down to the laundry room.
Don't neglect the locking of your balcony doors either. Just because you happen to be a few floors up that doesn't mean a thief won't find a way of using these doors for entry.
Do a quick security check of your apartment and make note of where you think you could take some extra measures to beef up your own apartment security.