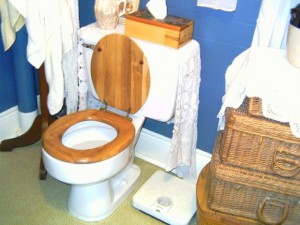 We all like to think that we have all of our valuables well protected in our home and go to great lengths to do this. We make sure that our windows and doors have good security. The entire family makes every effort to ensure the home is secure before leaving. Many home owners will ensure that their valuables like jewelry and money is well hidden or ideally locked away in a safe. So what is left of value for the Toronto thieve who unlawfully enters a home such as this?
Well of course there is always the electronics in the home which are always a hot item. What about those homes though that really don't have a lot of these items? Perhaps there is an older computer and maybe a television but that isn't much of a haul for the risk the robber is taking.
It seems that some thieves will take just about anything. A recent Police report revealed that one thief was interested in taking items such as kitchen and bathroom faucets, toilets and a set of shower jets. Now there was some indication that there was a quantity of these, but nevertheless it would appear that these aren't easy items to be heisting without bringing some attention.
It just goes to show you that a thief can make their illegal actions look quite normal.
It really does make one frustrated when you are an honest citizen and you take what you think are good protective measures to keep your home secure, yet these burglars will still thwart your attempts.
Fortunately with today's technology it is easy to add to your basic security measures by having a security system installed that is easy to maintain and is affordable. Often it is not the cost of this type of security that holds people back, it is their misconception of them. Some think that they are only for the very rich, while others believe they are too complicated and don't want the hassles of false alarms. Then there are those that think it takes a lot of work and hassle to get them installed.
These are all misconceptions and it would be a good idea to call the Toronto security experts at Pre-lock, or even better drop into their showroom. You will then get a chance to see just what is available to you to help beef up your security at various levels and prices. You will also find that it can be virtually hassle free when you put your security in the hands of these pros.