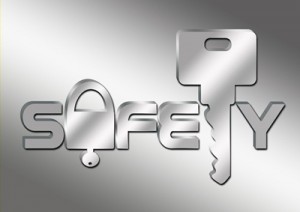 Medeco, or perhaps more properly Me.De.Co., as the company was created in 1968 and named for a Salem based company known as Mechanical Development Company. This is a brief story of Medeco which depicts why Pre-lock only insists on offering the very best there is when it comes to security.
The initial impetus for the company began in the 1950's, with a tool and die shop owned by Paul Powell and Roy Spain, both at the working out of a basement in Roanoke County, Virginia, not surprisingly named for the river that runs through the county, the Roanoke (apparently a Native American word for money, but that may be apocryphal) River.
Things did not really move fast, at first, for these two dedicated men, as can be seen from their humble beginnings working out of Mr. Spain's basement in their early years, not officially opening Medeco as we know it today, as stated before, until 1968. By then Roy Spain had made a significant breakthrough in modern locking mechanisms with his Patent (No. 3,499,303) for a new style of locking mechanism which would, without consciously resorting to superlatives, change the world of locks forever.
So confident was Mr. Spain (as well as a good marketer, apparently) in his new lock that he offered $50,000 to anyone who could pick the lock, an enormous sum today, but much more in the late 60's early 70's. This either shows total faith in a product or total disregard for consequences or just possibly delusions of grandeur. As it was, it worked out in his favor, with many people, likely some of them rising from the murky depths of the criminal underworld, attempting and failing to pick his new lock! Almost no one could do it! It must be mentioned that a single, either very talented or absurdly lucky, NYC Police Officer was able to pick the lock once, but not a second time. I have no idea if he received the money, but it sounds like he deserved it!
So what made Medeco's and Mr. Spain's design so difficult to pick, and thereby so secure? It is tricky to completely explain why Mr. Spain's new design worked so well without explaining in great deal how locks work. It will have to suffice to say that it just does work, and does so exceedingly well. The original designs called for the required pins to have chisel tip angles, which would allow the angled key cuts to elevate and rotate the pins, causing a side bar to drop, which then allowed the cylinder itself to turn. The off center chisel tip allowed the pin to be offset twice when turning the key, which theoretically makes the lock harder to pick, and also makes for a simply astounding number of key combinations: 2,176,782,336. This is not taking into consideration different keyways, making this system amazing and quite simply a game changer when it came to locking mechanisms.
To this day Medeco continues to make locks of ever increasing security, and strains to stay ahead of any would be lock pickers using modern methods to pick the lock. Although there have been a handful of proven ways to pick this style of lock, it is still exceedingly difficult and time consuming, making it significantly unlikely that someone will crack one, unless it is for very high stakes. Even today, working out of a 130,000 square foot facility built for the company in the 1970's, Medeco strives for excellence and as always, the un-pick able lock.
Be sure to call Pre-lock at 416-773-5625 for all your security needs for home and business.