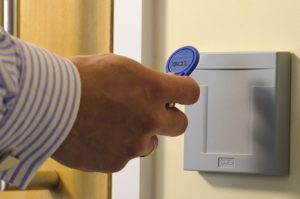 While Metro Toronto Police do their very best to keep the city a safe place to live and work, just like anywhere else we have our own fair share of crime. This means that as business owners we have to take on some of the responsibility for keeping our businesses protected. Fortunately, there are great security services that can be taken advantage of to do this like Pre-Lock Security.
There are many different aspects of the business that require business security attention. Just one of these is controlling who has access to your business.
You can put the access controls in place for your business that are best suited for you. These help to ensure that you are protected from theft and only allow entry for those that are authorized. This can be done through access cards, photo identification, proximity readers, and two-way intercom just to name a few.
When making your decision you really need to determine to what level you want to go.  For example to really step up your access security you can go with a Biometric system. This is a real step about using card identification or access with a pin number. The Bioscrypt FingerPrint reader enhances the use of proximity cards because it requires the fingerprint of the person wanting entry to match with the data that is stored in the reader. This is really added security because the loss of cards or them being stolen is quite commonplace.
Another option is the Handkey. This type of security depends on identification through hand geometry. The advantage to this type of access control is its simple to have installed, it's easy to use and it's affordable.
While many business owners know they should rely on access control for their business there are a few things that stop them from going that route. First, they don't know much about the different types of access systems. They don't have the time to really learn about them, and/or don't want the learning curve that comes with utilizing them. Then there is the task of assigning a staff member to be responsible for the system. All of these concerns are put to rest when the business owner chooses to rely on managed access control.
These are just a few examples of many types of access controls that you can put in place for your business protection. They can be as simple or as simple as you want them. The important step to take is to utilize a good Toronto security Company that has the knowledge, expertise, and experience when it comes to these types of systems.
You can depend on Pre-lock to offer you the affordable and trustworthy business access systems, that are going to make securing your business easy and affordable. The security experts here will make sure they spend all the time they need to with you to ensure you are not only getting the best quality business access system at an affordable price, but it's the one that you need specifically for your business.