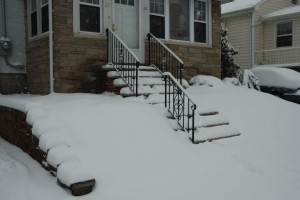 As grown children and adults ourselves many of us feel that it is now our turn to look after our aging parents. These seniors want to keep their independence as much as possible, which is understandable but it can also create a lot of worry and stress for us as we fear for their safety, and even more so in bad weather like we have been experiencing in Toronto lately. There are extra security precautions that can be put in place to protect them and give us greater peace of mind.
There are so many individual security issues that arise with our aging parents. We worry about their home being broken into. We are concerned that they will take ill and there will be nobody there to help them, especially if they are now living as one. Or when bad whether hits we fret about them going outdoors and perhaps falling. Then we think about their warmth and comfort and are they going to use extra heating measures that could put them in danger.
Fortunately there are solutions for this and it doesn't take a whole bunch of different security devices to achieve the comfort level you need to stop worrying about the seniors in your life. If you check out what the security experts at Pre-lock have to offer you will find that they have many all in one security systems that will provide your parents with the perfect solution.
You can have an affordable security system installed that is going to protect them from intruders. Doors and windows can easily be security more efficiently with the up to date locking systems. The fire alerts can be attached to the home security system which adds extra security. You can even have access to seeing what is taking place at their home from any computer or device that allows you to hook up to a browser.
If you travel a lot or are not available to respond when a security alert is activated you can take advantage of a security monitoring service.
If you really want peace of mind in knowing that your elderly loved ones are safe and secure then talk to the Toronto locksmiths who specialize in all types of security equipment and service for any age group. These pros will take the time to determine what you need to keep the people you love safe and at the same time maintain their independence which is so important to them.