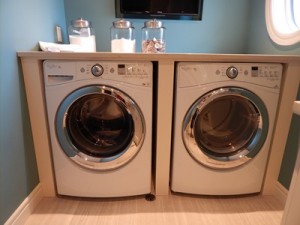 Not only do you have to keep your Toronto home safe from break ins you need to keep it safe from fire and peril and make sure that it is a safe living environment for you and your family. Every room in the house has to be protected against fire and some pose more threats than others. Your laundry room is one room where you need to be vigilant in regards to its safety.
The clothes dryer is one appliance that you need to pay attention to. It is also one that we tend to take for granted and assume it is maintenance free until it breaks down. Yet many fires have started in the laundry room because of issues with the dryer.
One of the common problems is lint build up in this unit. It is not enough to just clean out the lint screen after each use. Make it a habit when you are doing your vacuuming that you vacuum out the filter chamber as well.
For the dryer exhaust make sure you are using the right one. There are flimsy plastic ones that are easy to install but they can be potentially dangerous. Use the rigid metal duct type as they are not as prone to collecting lint.
Aside from fire you also need to be concerned about floods. This is an easy area of the house for this to happen in. It is not uncommon for many people to throw a load of laundry in the washer and leave it to run while they are away from home. Many people have returned to find a flooded laundry room. This can not only be a nuisance to clean up but if your laundry room is on the top levels of the house you could now have some substantial flood damage on your hands. One of the common causes of this is the water hoses become brittle because they are old, or the connectors have loosened off over time. You really should make it a rule to never leave the home when of the appliances are running.
While it is always prudent to make the laundry room off limits to the kids you still want to implement extra safety measures in case they do happen to go in there. All detergents should be place up and out of reach and be tightly closed. It may even be wise to put a lock on the laundry room door. If the kids have a playroom that is in the basement and this is where the laundry room is too then this is especially important.
Make sure you have the proper fire alert systems installed in this important  area of your home.