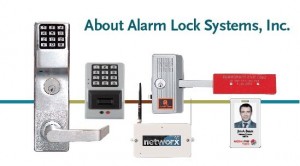 There are all kinds of door lock systems that can be purchased for both homes and businesses, and for each circumstance there are some good door locking systems guidelines that you can follow to help you make your decision. One that you may want to consider is the alarm lock systems, and where they can be of benefit to you.
Alarm lock security for your home:
While most of your attention may have been on keeping intruders out which you have addressed with your security system, there may be some that need a warning when someone is attempting to exit the home.
Many homes have multiple doors and when there are toddlers in the home it is almost impossible to keep visual contact with them every second they are awake. One thing that can be concerning is that these little ones decide to go exploring and start their journey by venturing outside unattended. There are several measures that you can take to prevent this, with one of them being the installation of locks that are too high for the little ones to reach. Sometimes however, it is easy to forget to engage both locks on the door, and the upper one that is out of the reach of the little one is neglected. With an alarm lock installed then you will have the peace of mind of being warned whenever exit to the door it is used on is being attempted.
Another good reason for installing a alarm lock system is if there happens to be those in the home who are suffering from Alzheimer or dementia. There has been no shortage of stories in the news where individuals suffering with these afflictions have managed to leave their home unnoticed and have gone off only to become confused or lost. It is difficult to monitor multiple exit doors in the home, and using an alarm lock on those that are not frequently used could be an additional security measure well worth using.
For businesses:
Many businesses have a least one door that they don't want to use, and may only be in place for exit emergency uses. Retail businesses want to be able to direct their customers to only using designated exits when leaving the store. Nursing homes have to be well cued in as to where their residents are and usually don't have staff available to monitor all of the exits even if there are camera's in place. These are just two of many examples of businesses that can really put a door alarm to good use.
Not only knowing what the benefits are to having alarm locks installed it is also important to know that the equipment you have purchased for this is of good quality and has an impeccable reputation. A provider of alarm locks that has earned these credentials is Alarm Lock Systems Inc, and their products are available through a well trusted supplier like Pre-lock.