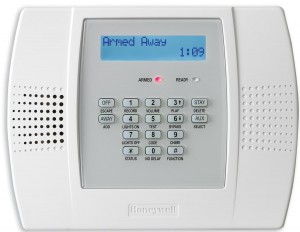 Knowing that you need security for your home or business is the first step in your protection, but the second is having some knowledge about what is available to you. For example, there is an excellent security product like Honeywell Lynx Plus.
Aside from the potent security features that the Honeywell Lynx Plus has it also looks attractive. Nobody wants a security system installed in their home that is obtrusive or looks unattractive. You can see from the sleek look of the control panel how it would fit in nicely with any home decor.
Then there is the ease of use. This is always a big concern with security devices. They will do the job but they are so complex to use that a lot of people miss out on their many features and end up only using half of their security potential.
Aside from ease of use being able to access the information this system can provide you with is really important. One of the best features about the Honeywell Lynx Plus is that you can access the security information it is providing you with remotely. This can be done through the internet using devices such as your PC, many different types of cell phone or tablet for example. Just imagine being away from home and within seconds you can easily check the security status of your home right away. It also provides convenience. If you want to allow someone entry to your home and you are not going to be there you can remotely disarm the system. This means you don't have to go through the hassle of changing the code afterwards.
If you have school age children its nice to know when they are arriving home without having to think about calling the house every few minutes. With this impressive security system you can receive an email alert when they have arrived.
Or how about knowing when an important mishap is taking place at your residence? Wouldn't it be nice to know if a flood were taking place or there was a significant change in temperature taking place? You can receive emails for this as well. In fact, you can even fine tune your system so it alerts you if someone is tampering with your safe or has accessed your liquor cabinet.
Using the Honeywell Lynx Plus as your security system is like having an extra set up eyes that never close, except when you disarm the system.
If you really want state of the art security equipment, that is easy to use and affordable then call Pre-lock today and ask about the Honeywell Lynx Plus system.