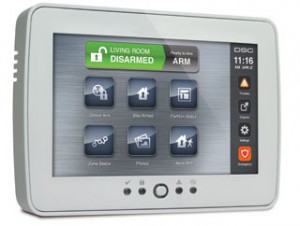 Often a lot of people shy away from having security systems installed in their home because they feel intimidated by them. They believe that they are such a complex piece of equipment that it simply will take far too much time to learn how to use them in order to enjoy their full benefits.
It used to be that way when these home and business security protection systems first came out on the market. It is not like this anymore. Systems like the Power Screen Touch Series DSC PTK 5507 is a prime example of this. It is easy to use and highly effective for allowing you to have the total security that you can depend on.
You need to feel comfortable in operating your security system, and it all begins with the screen interface where you take control. In the past this segment of the security systems have been difficult for the home owners to comprehend, and often led to where the systems were not being used to their fullest extent simply because the user screens were too difficult to decipher.
One of the great features for the user is how easy it is to program as its a matter of following the menus for the desired actions. The way the Power Screen Touch Series DSC PTK 5507 has been designed it makes it easy for both the installed and the customer to work together to get the full use of the system. The installer has many more yet simple installation options that are compatible with the user's needs. This means less room for error during the installation process. It is also much easier for the security expert to get the client to the point where they feel comfortable operating their security system because of the simplicity of the power screen touch series.
There is far less clutter on the screen and the client working with the installer can have the screen customized to the way they want it. This allows the user to become far more familiar and comfortable with the menus and icons related to the various security features.
The Power Screen Touch Series DSC PTK 5507 can be quickly and easily integrated with any of the PowerSeries security systems which are a trusted security provider for both home and business.
The easier your security system is to operate, the more you will be taking advantage of what it has to offer, and the more secure you family and home will be.
This system really focuses on being user friendly, without compromising it's security capabilities.