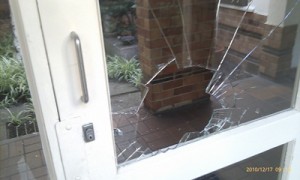 Being the victim of just an attempted break and enter is traumatizing, but when the crooks are success at actually getting in then it can be devastating. It is not something that is easy to get over.
It is not quite so bad if you arrive home and the thieves have done their dirty work and left. It is wise not to take any chances though and enter the home if you suspect it has been invaded. There may be no way of knowing if the culprits are inside. Either use your cell phone or go to a neighbors to call the police immediately.
In some cases you will not be able to easily spot that your home has been broken into until you do go inside. Again if you are not entirely sure that the culprits have fled the scene get out of the house and call 911.
The first emotion you will be hit with is shock and then fear will immediately set in. All the "what ifs" will begin to flood your mind. What if you had been home alone, or what if the kids had been here. Then following this will be anger.
The thought that your privacy has been invaded is infuriating. Next comes the worry as to what damage has been done and what has been stolen. All of these emotions can come within just a few minutes of your home break in discovery.
Then there is the tiring process of having police and authorities arriving to gather evidence, and ask questions. You will be asked to assess what is missing. With your mind already ready to explode this is daunting.
Then depending on the point of entry you may need some immediate repairs done and the entrance secured. Fortunately you can rely on the professionals at Pre-lock security to immediately and respond to take care of this. You have already been through enough and you will find it comforting to have someone to rely on to help secure your home.
You probably won't be able to get much sleep the first night or two. This occurrence will repeat itself in your mind several times over. You will question yourself as to what you could have done to prevent it, and may be fearful that your home is now targeted as an easy mark.
In a few days you will begin to settle. It is important that you go over your security features. While you may not feel like there is anything to be thankful there is and that is the fact that there were no personal injuries as a result of this incident.