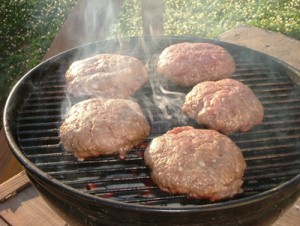 With the economy being a bit tight, a lot of us are remaining home this summer and will enjoy our activities right in our own backyard. While doing this is cheap and easy, it also means implementing some outdoor safety tips that we tend to forget when we are on our own property.
It is the time for entertaining and most likely there will be at least a few outdoor barbecues. When there are a lot of people around this means using some extra caution., and practicing outdoor summer safety.
Plan where you are going to situate your barbecue so it is out of the way of traffic of people coming in and out of the house. Although many barbecues have closed lids they still get hot. If someone coming out of the house happens to trip you don't want them hitting the barbecue. The other reason is for fire safety. You also don't want your barbecue under a low overhang. Often the flames can shoot up from the grease and could cause a fire.
Chances are there will be some little ones joining your outdoor activities. If you have small children of your own, then you have pretty well child proofed your outdoor area to some extent. If you don't have little ones, then spot check what the potential hazards may be.
If you have a pond even shallow water can be dangerous for a toddler. Of course if you have a swimming pool you want to ensure the gates are closed. Even your garden could create a potential hazard for tots who like to experiment and eat things not within the normal realm. Some plants can be poisonous.
If you have a raised and open deck then the little ones will have to be watched with a keen eye.
Don't forget to practice the food safety tips. In the hot weather food can spoil quickly. Also make sure your barbecued food is cooked to the right temperature.
Most outdoor entertaining takes place in the backyard. Don't forget to keep your front entrance locked. Some thieves will scout the area, and when noticing a outdoor backyard event, will be brazen enough to enter the home through the front.
Then of course there are the normal safety measures that make up part of the outdoor summer safety, like personal protection against the sun, and of course avoiding the bugs. Although these are pesky little critters they surely are a sign of summer.
For your home safety and security needs be sure to contact the professionals at Pre-lock at 416-773-5625