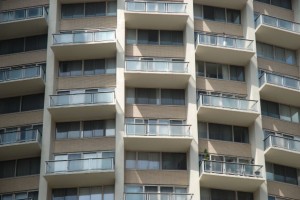 Toronto residents that live in apartments in this great city usually feel quite safe in their surroundings. They take comfort in knowing that their neighbors are only a door away. Many do have concerns however that there are keys to their apartment that are  being held by others such as management and landlords. This is a necessity as these individuals must be able to gain entry to the apartments in the case of an emergency. Security expert, Paul Seidman of Pre-Lock Security has some great advice for Toronto apartment dwellers on how they can feel more secure in their surroundings.

Q:Paul, often apartment dwelling don't feel safe with the locks on their apartment doors. What can the resident do to feel more lock secure?
Paul:
Feeling safe in an apartment is a little harder to achieve than your own private home as more people have keys to your residence making  key control issues much more harder to accomplish.  We suggest speaking with your apartment manager and determine if they will allow you to upgrade your locks to provide key control.  You will still be required to leave your management a key to your newly installed high security lock, however you can provide them the key in a secured sealed key control envelope that will require them to break the seal to access the key.  This will provide you far better security than the typical apartment building that the superintendent walks around with a master key that can unlock any door in the building.
Q:Do residents living in Toronto have to be concerned about security for their balcony doors?
Paul:
Yes all apartments that have a balcony can provide access to your apartment from any sliding door regardless of the floor you live on.  Intruders have been known to climb up or down a floor to gain access to an unlocked door.  We always recommend making sure that your exterior balcony doors are locked and secure.  We can also install a Charlie bar which is designed to fit in the track and prevent the door from being lifted or wedged out of the track to provide access for an intruder.
 Q:Those that are renting don't want to spend a lot of money on stationary security solutions. Do you have any suggestions what they can do?
Paul:
Speaking with  the building manager may go a long way, security is always important to property management and sometimes they would consider upgrading the physical security aspects to keep you as a tenant.
Q:Aside from intruder security what other kinds of security measures can apartment dwellers take to ensure their safety in other areas?
Paul:
Common sense is just important as physical security solutions in Toronto.  We suggest simple prudent security procedures liking not opening the door to anyone who buzzes your apartment unless you know who they are.  Don't let a stranger follow you into your building when you don't know who they are.  Always report strange people to security or the building manager to insure they are not up to no good.
Q:Does Pre-lock offer services to apartment dwellers?
Paul:
Yes Pre-Lock Security provides many apartment buildings with security, we have upgraded many apartment buildings with key control and residence's will feel a lot safer knowing not just any key will unlock their door any more.
Q: Do you have any additional tips for Toronto apartment residents to increase their security level?
Paul:
Being alert and aware of your surroundings is very important.  Try to always have someone with you when parking your  car.  Don't play with your telephone while you are walking to your destination .  You need to be focused and attentive to your surroundings at all time.  Intruders are looking for people that are preoccupied.  If you are holding a purse keep it close to you insuring that it is not dangling that will provide easy access for a lurking intruder.
No matter whether you live in an apartment or house, or even have a business with security needs be sure to call the Toronto locksmith security professionals at Pre-lock  416-773-5625.  They will be happy to answer all of your security questions.