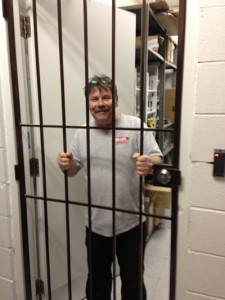 As soon as the mention of window bars comes up as a good security measure both Toronto businesses and Toronto residents have a tendency to think that these are so unappealing. Of course safety and security is important but putting bars on the windows? Think about this though, the bars on your windows could very well be a resource for putting the intruder behind a lot larger set of bars.
When you use a quality Toronto locksmith for your security needs one of the first things that you are going to discover is that they also take the esthetics of your business or home into account as well. Of course they realize that people take pride in the looks of their homes and businesses and the last thing they want is ugly looking bars strung across their windows. At the same time the first thing they want is to be able to feel safe.
Gone are the days of those unappealing metal rods that were placed close together across the windows to deter "would be thieves". These were most commonly seen on basement windows mostly because homeowners didn't care as much about the esthetics of these windows, because they weren't highly visible when it came to curb appeal. Many businesses would resort to them because they simply didn't have any other options.
So what has modern technology given us that addresses both the security needs as well as the appearance? Lots!
Have you heard about Uniguard?
This is a window security product that is yes, comprised of bars but is really impressive. In fact, some people who aren't really all that concerned about their security still opt to have the Uniguard installed because of its great looks. The installation of a window bar system with Uniguard can give your windows a beautiful French look, but most importantly provide you with the security that you really can rely on. Intruders don't want to come up against Uniguard.  When they are used on the business windows they typically look like they are there just for appearance only. For those thieves that haven't been introduced to Uniguard yet they are in for a big surprise when they attempt to try and get past this security feature.
How about Versa Bar?
This is a window bar system that works with your alarm system. It is ideal for the smaller windows in your home and perfect for the basement windows. They look great, and if you are worried about not being able to escape through windows they are affixed to in case of fire, then don't worry. You can pop the bars for quick exit or for window cleaning, but intruders can't.
The good old standard window bars with a whole new look
If you are just looking for something basic but has a whole whack of protective features to it then you can talk to your Toronto locksmith about the standard style window bars for basements. They are comprised of a very handsome powder coated finish that adds to the attraction of your home.
Here at Pre-lock security your safety is of the utmost importance to us. Our professional security systems experts will listen to both your safety concerns and your requirements for keeping your business and hope appearing attractive. We are the Toronto Locksmiths who provide security solutions to a large variety of businesses and all types of homes. We would be pleased to offer this same quality service to you so give us a call at 416-773-5625.