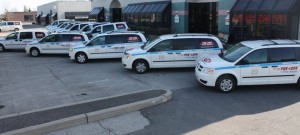 Toronto Pros Offer Help for Car Lock Out
If you are a vehicle owner then no doubt one of your biggest concerns is having to face a situation where you have lost the keys to your car, you are now locked out, and you don't have a spare. What you do have though is the opportunity to call a Toronto locksmith.
More often than not many Torontonians don't realize just how many valuable services a reputable Toronto locksmith has to offer. Lots of people are more apt to seek out their locksmithing services if they were locked out of their home or business, but tend to forget that these experts are also pros at unlocking the door of you vehicle when you can't.
Knowing that you can rely on these experts is one thing, but you also need to know that whoever you call to perform this service for you has to be reliable and trustworthy.
Of course if you are in this situation naturally you are somewhat frustrated and depending on the circumstances you may be feeling a little panicked. If it is late at night and your car happens to be parked in a dark parking lot you may be feeling a little apprehensive.
In this case especially you need to find locksmithing services that are available to assist around the clock. Then it could be that it's a long weekend and you are sure that nobody is working including the Toronto locksmiths. This is not the case however at Pre-lock security as the experts here are ready to respond 365 days of the year.
You also need to know that the service provider that has the ability to open your vehicle for you is going to be prompt. Who wants to be stood by their car for hour waiting for a locksmith? Using a company that has a large staff and a fleet of vehicles to allow them to respond quickly, is the type of locksmithing company that you want to rely on.
Professionals in this industry are aware that in many cases when they are called to open a lock whether it is a vehicle or building, that the client is going to be stressed out because of the circumstance. While this is still no excuse for the customer to be rude, a good professional does understand their frustrations. Patience is the key here as well.
A reputable and experienced locksmith is not going to open any vehicle without proof that the individual requesting the service has the authority to enter the car. So if you are asked to prove this don't take offence as it is for the protection of you and your vehicle.
Be sure to write down the name of Pre-lock Security and our number (416)773-5625, and stick this information in your purse or pocket. We are always ready to take your call.