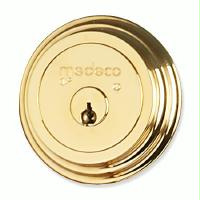 Recently we did a post on the different types of doors and the multiple parts they consist of, which all need some attention when it comes to making sure they are secure. Now we are going to talk about deadbolts and using the right one and basically how they work.
This locking device is sometimes called a dead lock and it is not the same as a spring bolt lock. There are distinct differences between the two. For a spring bolt it requires a spring to keep the bolt stationary, whereas with a deadbolt it can only be opened with the rotation of the lock cylinder. If an individual doesn't have the key to perform this action then it is very difficult to move the lock so one can gain entry.
Just like any product today there are generic types, but if you are going to take advantage of all the benefits that the right deadbolt can offer you then you really want to choose a quality type and one with the proper rating.  To ensure that you are getting a qualified rating you want a lock that has been rated by an organization like ANSI, which is the American National Standards Institute. This organization puts products that they are going to rate, through rigid testing. The rating a deadbolt is given will depend on the type of testing that it passed. For example, a ANSI 1 rating for a deadbolt qualifies it as a commercial rating.  Another governing body for products that also do intricate testing and rating is the Underwriter's Laboratory (UL).
It is even better when the deadbolt exceeds a ANSI rating like the Medeco Maxum Residential Deadbolt. In fact this particular product carries a Grade 1 UL Certification within its specific category.
Being as your deadbolt needs to be opened with a key, then you want extra security with these as well. What good is it if your key is stolen and a duplicate is made of it? Again you want the locking mechanism to have some type of quality rating as well. This often includes assurance that your keys for the lock cannot be duplicated.
Your deadbolt has to be able to make it really tough for any unauthorized person trying to get past the deadbolt by hitting it with a hammer, sawing it, physical abuse and other common methods one may try to remove or open the bolt.
Finally you want your deadbolt to look attractive, and fit in with the decor of your home. Give Pre-lock a call at 416-773-5625 and ask them about the types of deadbolts they recommend.