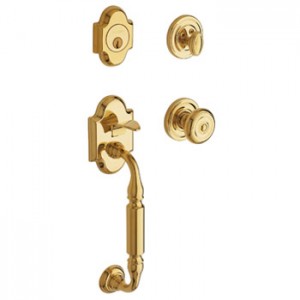 It is not uncommon for many homeowners to want to have top notch security systems installed to protect their home, but at the same time they don't want to appear as if they are living in fear of home break ins and unwanted intruders either.
They have no desire to make their living quarters look like some type of fortress. Fortunately the many available security systems installed by the security professionals at Pre-lock are really quite impressive looking and add to the decor and ambiance of the home.While at the same time providing the high level of home security that every homeowner wants to be able to rely on.
A good example of this is the Cambria lockset. Lots of people are concerned about the quality of locks that they have on their doors. There is always a concern that the keys may become lost or stolen and that they can be duplicated. Or they want protection from a would be thief who tries to pick or drill the lock. The solution to this is the Cambria lock set. At the same time though these lock systems are really impressive looking in their design. You can choose from a knob or lever design depending on which design compliments the style of your home. They come with a high security rim cylinder and there is no disappointment in the large choices of finishes.
If you want something in the lock department just as impressive but with different options for style then you will want to see what the Baldwin lock systems have to offer. Within this security line you can really plan a beautiful balance in appearance with some of the additional security accessories.
Both of these examples gives you a good idea of just how impressive security can be. Starting with the locking system of your doors is just the beginning. You can continue with your security design throughout the rest of your home. This includes your windows, and your security alarm systems that pertain to both the interior and exterior of your home.
To really plan out your security design well it would be well worth paying a visit to the Pre-lock security show room. It is much easier to choose the best security features that are also going to enhance the looks of your home by seeing them visually. Plus, while you are there you can take advantage of the expertise that the Toronto locksmiths here at Pre-lock. They can help answer all your security related questions and assist you in keeping your Toronto home and family safe and secure.