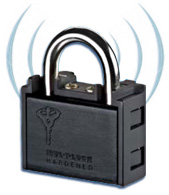 It can be really frustrating when you have gone to all the trouble to instill good security in your business and yet it still doesn't seem to be enough. Perhaps you have installed a lock in an area that you only allow access to during certain periods of time, yet there are some really strong suspicions that somebody is entering this area in unauthorized times. The solution to this without drawing attention to your suspicions or going to really expensive additional security measures is simply to utilize a watchlock.
Utilizing this effective yet affordable security feature allows you to take away the guesswork of just when the area or item being protected with the watchlock is being compromised. You receive an immediate alert when the lock has been unlocked. The best part is there is no complicated wiring that has to be installed which in itself would be a telltale sign that the lock is being monitored.
If you operate a business where you lock valuables up in the evening and you secure this with a watchlock then intruders who try and tamper with the lock don't have a chance. The most common way for a thief to try and gain entry is to attempt to smash the lock with a hammer. Little does he know that the moment he attempts this you are being alerted to the lock being tampered with.
Just some examples of where this type of lock would be most valuable is in the situation where CCTV cameras were in operation which could be locked and the owner alerted whenever the lock was opened.
For trucking firms that are transporting valuable cargo and need a track record of when the lock on the trailer was open this is the ideal security system. All of the pertinent data concerning the lock is stored with easy access to this.
If you aren't sure whether you have a need for an advanced security lock system such as this it would be well worth discussing its capabilities with the Pre-lock security experts. These are professionals in the security business that can easily determine and advise as to the best security measures for any type of business.