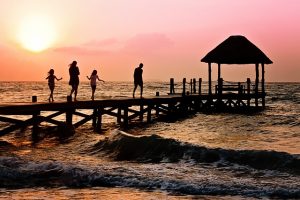 Making ends meet nowadays is extremely difficult, especially if you have, or want to have, a family and kids someday. Most times, in order to raise a family with children, you will find it takes both parents working full time in order to just get by. It can be extremely stressful and even frustrating when you work so hard and yet never seem to get ahead.
One big problem in this scenario is that "all work and no play makes Jack a dull boy", as the old adage would say. Your name may not be Jack, but if you and your significant other don't try and take some time for yourselves, it is not only depressing, it can make for a miserable life. Putting away a few bucks here and there might not seem so easy, but it will pay out in the long run if you can finally get away on a vacation. It doesn't have to be extravagant, or even expensive, just getting away from the same routine will help you more than you know.
So now you have the money to go and do something, and choosing where to go, when to go and what to do is the next step. Christmas is always a good time for a holiday away, but you are somewhat restricted as to what you can do outdoors because of the cold weather. Summer is good as well, but then depending on where you go, the heat can be unbearable.
The other best time is the March Break, as your kids are off from school, the weather is usually very comfortable, allowing you lots of other things you can do outdoors while you are gone. Okay, so all your plans are made, bags are packed, and all that remains is for you to make sure your house is locked tight and secure before you take off for a week or so. Making this effort will pay off big time when it comes to you worrying about your home and personal belongings.
First and foremost, and very important, even after you have locked everything up tight, always do a final double check before you actually walk out the door. It's easy for someone in the family to use a door and then forget, leaving it vulnerable. If you have slidings doors anywhere in the home, make sure you put a metal bar on the tracks to make it harder for intruders to pry open the doors.
If you know your neighbors well enough to ask them to keep an eye on your place, this is always wise to do. See if they wouldn't mind picking up any mail or newspapers from your door, as this is a big way would-be thieves have an idea when people are gone away. If you have any spares keys left around the home, make sure you retrieve them all, and perhaps give one to your neighbor, if needed. If you have a garage door, make sure you disable it prior to leaving, this can be done by unplugging it.
The best way to have the most peace of mind while you are gone is by investing in a house alarm that is operated by a reputable security company that can monitor your home while you are away, if you so choose. Nowadays these alarm systems are extremely affordable, and monitoring is also very reasonable as well. Look online and find the closest security company near you, and make sure you check their references before you hire them to take of your home and your precious belongings. Your holiday will be far more enjoyable and far more relaxing knowing that everything is safe and secure.