ESL-XL Series


AMSEC Safe has been the leader in the electronic lock market in North America. The ESLXL SERIES locks offer exceptional value in electronic safe access for your new Amsec Safe. The ESL10XL and ESL20XL locks have the best of both worlds bundled together providing the user with functions and features not found in most Electronic Safe locks. The ESLXL SERIES offer an attractive clean looking metal die-cast digital keypad housing with an alpha-numeric slanted keypad. The ESL10XL is a basic keypad lock for home and office applications. The ESL20XL displayed below offers advanced features necessary for commercial or high end residential applications.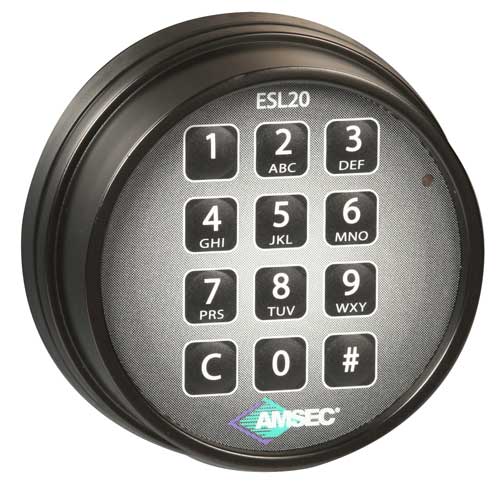 ESL10XL FEATURES:

•Replaces most mechanical combination locks. Easy upgrade to any safe we sell
•Electronics are encapsulated within the lock and are sealed to prevent possible moisture related failures.
•Cable fits through a ½" spindle hole without cutting and re-crimping connector.
•Audible beep and flash from every keystroke gives maximum feedback to the user.
•15 minute Penalty Lockout after four incorrect entries protects against manipulation attempts.
•New patented dead-latched lock design with an internal relock device for maximum security.
•Lock "auto-locks" when boltwork is thrown to prevent safes from being left in a day lock position.
•Slam Bolt version for locker applications.
•Optional internal battery pack extends operation between battery changes.
Available in Chrome, Brass, Blck Nickel, & Black

ESL20XL ADDITIONAL FEATURES:

•Time Delay Mode: Delays can be set from 1 to 99 minutes.
•Multiple User Mode: When enabled, one Master code and eight user codes are available with full supervisory control and code management.
•Dual Control Mode: The lock can be programmed to require two combinations to open for added security.
•Armored Car Override: When enabled, allows an armored car service to bypass Time Delay.
•External A/C Power: Provides power for unlimited use with battery power as backup.
•Control Port: Turn the ESL20XL on/off with an Access Manager, Alarm System or other device.

ESL20XL (Black Only)

Optional Expansion Modules:
Provides these additional capabilities on the ESL20XL:

•Duress (Silent Signal) Alarm Output. Provides relay output for alarm system connection.
•External connection for A/C power transformer on ESL20XL and ESL10XL.
•External connection for control port.
•Provides for connection of one or two ESL20XL locks.