Smart Home Monitoring


SMART HOME ALARM MONITORING FROM YOUR iPHONE MADE EASY NOW AVAILABLE AT PRE-LOCK
The best just got a lot better. The new Pre-Alarm security TCP-IP based bus-level interface module that can upgrade your DSC PowerSires panel and Honeywell Vista alarm system.

Our new Pre-Alarm Module allows you to view the status of your security system just like standing in front of your keyapd at home and even control your home alarm panel through a standard web-browser or Smartphone.
Our Pre-Alarm interface board added to your security system allows you to control your DSC or Honeywell security system from any internet connected computer, tablet, or smartphone including any iphone , blackberry and Android devices as seen on TV.
Not every security event is an emergency. Keep track of what is happening at your vacation property when you are home, and keep watch on your home while you are vacationing or at work. Our new Pre-Alarm interface board is one of the most economical options for keeping in constant connection with your properites through your computer or smartphone.

Event notifications can be sent by email or SMS text. Receive a text or email to notify you that your son or daughter has arrived home or the dog walker has come by.

Add cameras for increased security. Live video can be viewed from your internet connected device. Know who is at your door or view when your son or daughter arrives home from school.

Our Professional monitoring center will still contact the Police upon receipt of intrusion signals , you will just know about it quicker than you ever dreamed of.
Our Pre-lock technicans can upgrade your existing DSC or Honeywell alarm system to provide you access to your security system from anywhere in the world 24 /7.
imagine being able to turn off your alarm system from Florida and then arming it again when you want it on. Bypass any window any zone even
receive alarm notifications when the system is not even off so you are now in full control and will know if any window door, is open or closed.

Thats right pick the activity you want to monitor, when you want to monitor it. So even when you alarm is off you will know when someone walks in your home
and when the door is open or closed. We can install a wirless contract on your wine cabinet and image being able to know when the kids help them selves to a bottle.....

Our new Pre-Alarm module is ready when you are and we can add this feature to almost any security system , even if we currently don't provide your home alarm monitoring ask us how easy it is to become a Pre-Lock Customer.
Pre-Lock Smart Home Module Features
**New** Remotely upgradable to allow for new features and services


**New** TPI - programmer's and integration interface.

**New** Expansion Header - add new hardware modules as they become available.

Simple to hook-up by our team of professionals


Built-in basic web server and html user-interface

128-bit encryption

Real-time zone status with "time-since-tripped " feature

Local Arm/Disarm/Zone Bypass/PGM Control

Multi-Partition Support

Technical traning so you will be able to swim fast
With ESP Service (Included)
Remote Arm (Away & Stay, Quick Arming)/Disarm/Zone Bypass/PGM Control (depending on panel model)

Event Logging

Receive Alerts by e-mail or SMS.

See at a glance system status on a map in ESP interface.

New "Smart Phone" optimized version of the ESP portal. Works with iPhone, Android, and Blackberry.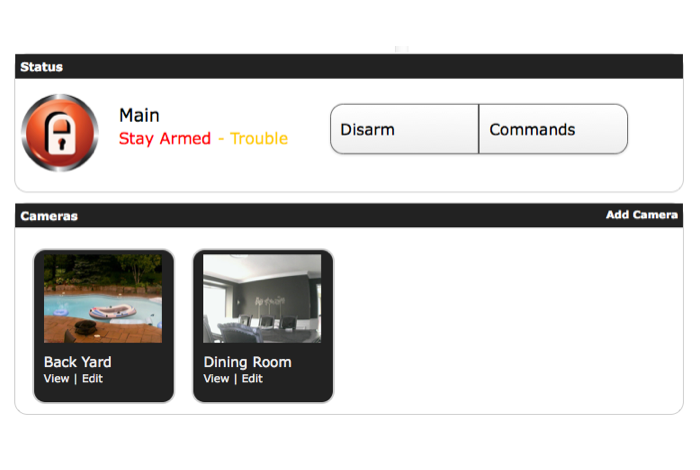 In today's world everything is controled by your phone. And now security is truly part of your every day life and in the palm of your hands. If you
are looking for more than just an alarm system for your home, business or cottage that can contact the Police in an emergency
we have it all, and so can you.
Let's face it getting information from your alarm system is not always a emergency that requires the Police.
Fire, or Ambulance. Sometimes you just want to know when your Nanny has opened a drawer in your master bedroom. Sometimes you just want to know why your kids are opening the wine cellar. Sometimes you just want to if someone is opening your fridge,

It's great to know when someone left a window or door open while the alarm is off. You won't get that kind of information
from any standard alarm system but you will with our Pre-Alarm module that you can program to tell you what you want to know when
you want to know it. Event notifications can be sent by email or SMS text messages. Receive a text or email to notify you that your family as arrived
home safe and sound.

With the addition of our new GPS tracking pendant and emergency unit, you can give your loved ones something that is just a push of a button way.
that can alert you when they need help. You will be able to also pin point the location of where they are anywhere in ontario.

Do you worry about your child walking to school? Do you have an elderly parent that is looking to have some
independance but from time to time gets a little confused? Do you have a son or daughter attending college or university and are
concerned for their safety on campus? We also have a personal GPS tracking unit equipped with a panic button.

Inquire today how easy it is to upgrade your existing security system and receive 3 months free Pre-Lock Smart Phone access!!!!


Call us at (416) 773-5625