Screen Alarm


Pre-Lock Security brings you a screen that allows you to leave your windows and doors open but at the same time have a reliable deterrent against break-ins from unwanted burglars.

This proven and dependable security screen for your windows and doors allows free flow of fresh air and light in to your home but is designed with undetectable alarm device that triggers with the slightest tampering of the screen to summons the Police in the event of attempted entry.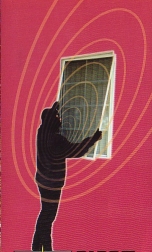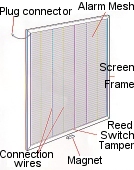 A security screen is really very simple. Your existing frame, or one that we manufacture to fit, is screened with a special alarm mesh which has detection wires interwoven every four inches. This mesh is almost invisible.
In addition there is a magnetic switch placed in the frame. This protects the screen from tampering. A plug connector is also added so it can be tied into your alarm system.
The picture above is an example of how the components go together. The connector and tamper may be placed almost anywhere in the frame parameter. The read switches we use are color matched to the frame. This makes them harder to detect. The two common plug types are used and come in white or black to suit your trim colors. The mesh may be placed either vertical (most common) or horizontal. The horizontal wiring is recommended in wet conditions near the ocean or lake.
We also deal in wood frames. The metal frame may be recessed into your wood frame for a pleasing flush appearance or we can wire directly into a wood frame with no metal used.
The metal frames we use all have a factory applied baked enamel finish. We will not use bare aluminium. An internal metal corner is also used; no plastic is used here. Custom colors are not a problem either.
Alarm screens offer the best protection with the windows open or closed. They are a normal part of a window and thus do not visually interfere with any window treatment or decor. They will not hamper your movement within the home or office when the system is armed, unlike motion detectors. If the screen is cut or tampered with the system is instantly activated.
Security screens provide the best of everything, fresh air, visual appearance, ease of maintenance and protection.

We do apply all of the above to swinging or sliding screen doors either metal or wood.
Email us at sales@pre-lock.com