Locksmith Products » Physical Security Products » Door Lock Guard For Key & Knob



Door Lock Guard for Knob Lock 250 Deadbolt Lock Guard 260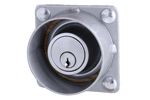 Lock Not Included Lock Not Included
Our new lock guard is designed to protect key-in-knob locks and deadbolt tubular locks against pipe wrench and beating attacks that are caused to defeat standard locks. The lock guad thatis avaialble at Pre-Lock is installed to provide the exisitng lock with physiacal protecton that would protect the lock from surface beatings and shield it so the lock can provide effective security.
The base plate measures 3-1/2" square and will accommodate locks with rose diameters up to 2-11/16 inches, guard projection is 3 inches. Four 1/4" carriage bolts are supplied for mounting on doors up to 1-3/4 inch thick. Finish is an exterior silver powdercoat. Best results are obtained using a storeroom function lock for additional security for your home or business.
Call us today to review your permiter security of your home or business. Our risk assements are perfomed by professional security experts that will advise you on your security vulnrabilty and provide you a firm price in upgrading your security services for your home or buisness.
Visit our show room at 800 Petrolia Road Unit 1 or call us today
(416) 773-5625