Alarm Services » Residential Alarms » Honeywell| Lynx Touch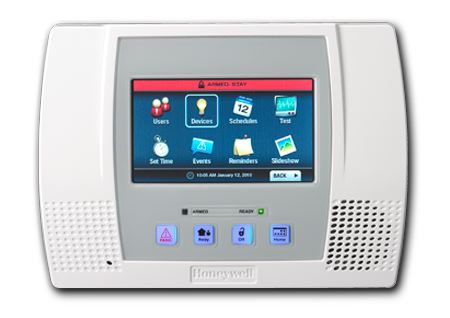 Proven Reliability and now in a very appealing touch screen
With advanced technology and reliability, the New Lynx Touch systems with increased zone capacity now boasting up to 64 wireless zones and one on board hardwire zone as an all-in-one, integrated wireless security system design from Honeywell is now available from Pre-Lock Security.

Honeywell has given us flexibility with the proven reliability of Ademco's new wireless technology with all the features you want, the most-peace of mind, everyday convenience, and remote control. Millions of family's have trusted Honeywell Lynx products for decades. Now the Lynx Touch puts the control at your finger tips. The vivid touch screen makes the system so simple to use with icons and words easy to use and simple to understand since the systems speaks to you and explains everything making it a simple system to operate. The complete wireless system provides compact wireless sensors for superior protection and reliability. Home owners will love the intuitive 4.7" graphic touch screen with full color graphics. The system has weather, traffic and news reporting and more. You can control the system remotely via a smart phone with your iPhone, Blackberry and Android phones for complete control of your security system from anywhere in the world. The New Lynx Touch can also integrate with your home lighting and our Honeywell indoor and outdoor camera options for ultimate security services.
With our 24 hour monitoring services with optional two-way voice available over GSM you can rest assured our trained operators will alert the proper authorities in the event of an alarm condition when a signal is received. Total Connect Remote services are available that will turn your Iphone, Ipod, and blackberry into a remote keypad that works just like the one you have at home that came with you security system. Best of all you can get e-alerts video of whats happening in your home right on your iphone or smartphone device.
The new Lynx Touch will be available in so you can be first on your block to have the latest security system yet.
LYNX Touch Features Security Industry's Largest Color Graphic Touchscreen with Honeywell's 5800 Z-Wave Bridge to connect devices that communicate via the Z-Wave protocol, LYNX Touch can set or change thermostats or turn lights on or off when the system is armed.

LYNX Touch also features include two-way voice over GSM radio unlike other Two way voice providers LYNX Plus has full two way voice without any phone lines, which make the device ideal for cell phone-only homes or VoIP households that don't use standard telephone landlines. Additionally, LYNX Touch is compatible with Total Connect Remote Services, this is Honeywell's flagship remote home monitoring system that allows homeowners to access and manage their security systems from web-enabled devices including personal computers, smartphones and tablets. With Total Connect, our customers can receive important alerts, view live streaming video, receive video event clips and control their systems remotely. LYNX Touch also includes a Family Message Center that allows household members to record and playback voice messages for one another. The system can also be used as convenient, hands-free speakerphone.

Call us today for more information on the New Lynx Touch System at (416) 773-5625