ALARM.COM


CONTROL IT NOW WITH ALARM.COM......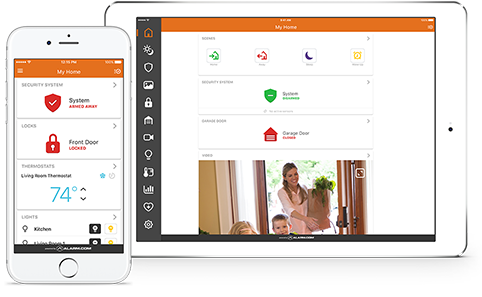 Alarm.com is our new way to protect your home family and business. Alarm.com is the leader in Smart Home Security, giving you solutions to monitor protect and automate your home. More than a app or a cool thermostat, Alarm.com integtates seamlessly with the devices we configure in your home to be able to be controlled from your home or anywhere in the world with your smartphone device or via the web frrom any windows or Mac. Unlike other security sytems that rely on cable or phone connections, alarm.com uses a dedicated cellular connection that we provide during the installation and configuration of our system. We do not require Internet, works even during a power fail using our advanced battery backup supply and phone line cut technology.

If there is an emergency, we're one step ahead of everybody. Alerts are sent out in seconds giving advance information and notice to the people that need it most. Unlike traditional security systems that only alert you in an alarm event, Alarm.com lets you know what's happening at your property at anytime. Know when a window is opened, know when a window is closed even when your alarm is off or on It's easy to set your own alerts and customize the system to tell you exactly what you what to know when you need to know it.
Its the easiest, most secure and most convenient way to give a trusted vistor access to your home? You can remotely set a unique user code for your Alarm.com secuirty sytem and smart lock. It's easy to create and to delete. You can restrict it to certain days and times, and you have Alarm.com alert you whenever your vistor uses the code and enters your home.


Smartphone & Tablet
Control your whole whome from a single screen. You can do it at work, on vacation or just relaxing
in front of the TV, Alarm.com's app puts your home's security, access and confort at your fingertips.
Secure your home, dim the lights, view alerts, whatch live video and even answer the door with just
a few clicks on your mobile device or tablet.

Call Us Today at (416) 773-5625

Pre-Lock Security is An Authorized Alarm.com Service Provider

Toll Free
1-877-773-5625
Local Number
416-773-5625
Pre-Lock Security
Services Inc.
800 Petrolia
Road Unit 4
Toronto, Ontario
M3J 3K4
Canada
E-mail:
sales@pre-lock.com
We Accept: