Alarm Services » Residential Alarms » Honeywell - Hybrid Alarms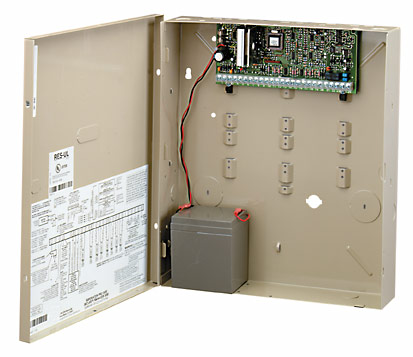 All our custom Honewell residential hybrid security packages start with the VISTA-20P control panel system. The VISTA-20P lets us deliver more value to our customers on each and every home and family we protect. With up to 48 individual zones of protection that we can install any combination of hardwire or wireless security components we know your family will be safe and sound around the clock. The Vista -20P starts out with eight on-board zones and supports up to 40 more ECP zone expansion devices or 40 wireless sensing devices. The choice is all yours.

Your family can split the home protection into two separate partitions, which can allow you to have one security system that works like you have two. Ideal for homes with basement apartments that want to have a security system without having to pay for two complete installations. Way to go Honeywell.
We always recommend the Alarm Net wireless communication module on any system we design so we can provide you supervised line security without standard telephone lines which are required with basic systems but offer no line security in the event of interruption from an intruder. Optional remote status and control options allow home owners to manage the system from home or other locations using the internet browser, cell phone, PDA or other modern mobile device.
The VISTA-20 advantages, and innovative security accessories that can be configured for your custom security system will provide end-user benefits and robust system capacity making the VISTA-20P an ideal choice for our high end installations requiring the best security for your home and family.
Take a moment and check out the various product options available for Vista 20P.
Call us at (416) 773-5625 and let our security consultants custom design as system for you.

email us at sales@pre-lock.com