Honeywell Total Connect


Stay Connected... Anytime, Anywhere

ACT NOW!

Keep track of your family from anywhere you have internet access, right from your Blackberry or i phone hand held device!!

Whether you're looking to check up on the babysitter, checking in on your grandparents, or just keeping up with your kids busy schedule.
Total Connect puts peace of mind in the palm of your hand big time.

Just because you're out of the office doesn't mean you have to be out of the loop. Put Total Connect to work for you and you'll have the
critical information you need to help manage your business, your employees and even the unexpected. Whether you're responsible for
one facility or one hundred, Total Connect can help you operate a safer and more productive enterprise. You can even see your cameras, all on your
mobile handheld device.

If your home could talk to you, what would it say? When would it say it? Whether a door has been opened, a valuable has been moved or a flood has been detected,
Total Connect can tell you and show you. All you need is your laptop or cell phone to stay in the know and stay in control.

With Total Connect, if it's happening in your home, it's happening on your phone!!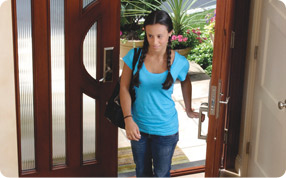 View live, streaming video on one, four or six cameras at a time on your iPhone® or iPod touch®. Tap on any thumbnail on your phone to view a full screen.
The Virtual keypad is an online version of an actual keypad -making it easy for users to control their security system and initiate real-time changes to your security system.
Call us today at (416) 736-8383 and find out how easy it is to get Total Connect from Pre-Lock Security for your home.
Toll Free
1-877-773-5625
Local Number
416-773-5625
Pre-Lock Security
Services Inc.
800 Petrolia
Road Unit 4
Toronto, Ontario
M3J 3K4
Canada
E-mail:
sales@pre-lock.com
We Accept: